Prince visits Glasgow after police helicopter crash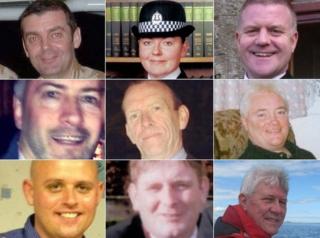 The Prince of Wales is preparing to meet some of the emergency workers who were involved in the Glasgow helicopter crash operation.
Prince Charles is to visit the city on Friday, a week after the police helicopter crashed onto the Clutha bar.
Nine people died - the aircraft's crew of three and six people attending a music gig at the pub.
The prince, whose Scottish title is the Duke of Rothesay, will sign a book of condolence at Glasgow City Chambers.
A short statement on the Prince of Wales and Duchess of Cornwall's website said: "The Duke of Rothesay will visit Glasgow to meet emergency service personnel and others involved in the response to the helicopter crash in Glasgow city centre last Friday.
"His Royal Highness will also sign the Book of Condolence at the City Chambers."
More than 100 people were in the bar when the helicopter dropped out of the sky "like a stone", crashing through the roof of the building.
The people in the bar were Robert Jenkins, 61, Mark O'Prey, 44, 33-year-old Colin Gibson, John McGarrigle, 57, 48-year-old Gary Arthur and Samuel McGhee, 56.
The crew members were pilot David Traill, 51, and police officers Kirsty Nelis, 36, and Tony Collins, 43.
Of the 32 people who were injured, 10 and still being treated in hospital for a range of serious injuries including bone fractures, spinal injuries, lacerations, chest injuries and head injuries.
Six of the patients are being treated at Glasgow Royal Infirmary and four patients are being treated at the National Queen Elizabeth spinal injuries unit.
Investigations by Police Scotland and the Air Accidents Investigation Branch (AAIB) were launched in the aftermath of the incident and a preliminary report by the AAIB could be released within the next few days.
The full findings are not expected for several months.
The three-tonne Eurocopter was removed from the scene on Monday and taken by lorry to the AAIB base in Farnborough, Hampshire, where it arrived on Tuesday night.
Air accident investigators have already revealed that the helicopter pilot made no mayday call and that no black box data recorder was on board.