Glasgow 2014: Jonathan Boyd to design Commonwealth Games medals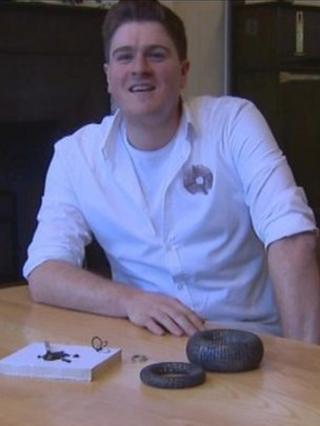 An award-winning silversmith is to design the medals awarded at next year's Commonwealth Games in Glasgow.
Jonathan Mathew Boyd lecturers at Glasgow School of Art (GSA), from where he graduated with first class honours.
The 29-year-old, who lives in the city, uses digital technologies in his work as well as hand crafted skills and traditional metalworking techniques.
Boyd described the commission as "humbling and extremely exciting". His design will be unveiled next year.
Boyd said: "I love the city of Glasgow and have lived here for most of my adult life; to be given this important opportunity and to showcase my admiration for the city is both humbling and extremely exciting.
'Special place'
"I have always thought of Glasgow as a unique and special place - one that thinks and does things differently.
"I hope in my design I can reflect Glasgow's industrial past, capture something of the city that it's become and most importantly capture that uniqueness that Glasgow has."
Boyd graduated from the GSA with first class honours in silversmithing and jewellery and went to study for an MA at the Royal College of Art.
Now a lecturer at the GSA, he is also the winner of many awards and grants, including the Donald Dewar award for exceptional Scottish talent.
Earlier this month he won the silver prize at 2013 Beijing International Contemporary Metal Art Exhibition.
David Grevemberg, chief Executive of games organiser Glasgow 2014 said: "I'm delighted to have Jonathan's incredible creative talent on board and I know he will bring something truly unique to the Games.
"I am excited to see his final designs and have no doubt that the Glasgow 2014 medals will be something truly special."