Dog attack owner Annmarie Gray sentenced to unpaid work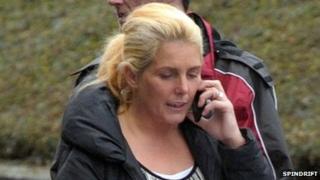 A woman whose dog attacked a 16-month-old toddler has been ordered to carry out 100 hours of unpaid work.
Annmarie Gray, 44, was in her home in Possilpark, Glasgow, with the girl when her Staffordshire Bull Terrier escaped from a cage and mauled the child.
The girl, who cannot be named for legal reasons, had surgery on her right eye and needed more than 30 stitches.
Gray was handed a community payback order after admitting charges over the attack on 8 February this year.
At Glasgow Sheriff Court, Gray pleaded guilty to having the dog, called Bullseye - that was dangerously out of control and attacked the child to her severe injury, permanent disfigurement and impairment.
She also admitted having an illegal pit bull terrier dog - called Boulder - contrary to the Dangerous Dogs Act, although she claims that both dogs are from the same litter and are registered as Staffordshire Bull Terriers.
'Tragic accident'
Another charge relating to a 2010 attack by Bullseye on a 12-month-old boy in Milton, Glasgow, was dropped as part of a plea deal.
Sheriff Alan Miller handed Gray a community payback order and admonished her on the charge of owning a dangerous dog.
He said he was "satisfied" she would take extreme care in future herself.
Speaking at the court, Gray said: "It was a tragic accident that night.
"We have had the dogs for four years and they have never bothered with her (the child) before.
"They are always kept in the large cage - not in case they attack her, just because they are bigger than her."
The court was told that Gray noticed Bullseye took an "active interest" in the child - who sometimes visited the house - and that the dog often played with things that belonged to her.
On 8 February, while in the house, the child was placed on the floor and the dogs were in the cage.
Moments later Gray saw that Bullseye had escaped and had a hold of the baby by the cardigan and instantly pulled the dog off of her to free her.
It was then noticed that the little girl was bleeding and that the dog had obviously injured her.
'Facial wound'
Gray immediately called an ambulance and the baby was taken hospital.
The court was told that the child had a "significant facial wound".
She underwent surgery on her cheek and right eye with more than 30 stitches needed.
The extent of her injury will not be known until she is older.
Gray said: "It happened within seconds, it was terrifying. At the time when it happened, she didn't even cry.
"We panicked and then she started crying. I didn't think for a second it would get as far as court.
"I thought the dog that did it would get taken away and put down, but it is understandable with all the dog incidents that have been going on."
Both of Gray's dogs have since been destroyed.