Emily McLeod honoured for helping Glasgow attack victim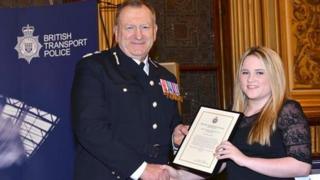 A schoolgirl who came to the aid of an assault victim at a train station in Glasgow has been honoured for bravery.
Emily McLeod, 15, helped the 25-year-old, who had been struck by a bottle, at Partick Station in May.
She used tissues to stem the flow of blood and stayed with the man until paramedics arrived despite the suspected attacker still being there.
The Hyndland Secondary School pupil, from Ruchill, received a commendation from British Transport Police (BTP).
The victim of the attack later received 17 stitches at the city's Western Infirmary.
'Truly deserving'
An investigation into the attack is continuing.
Emily, who was 14 at the time of the incident, was presented with the commendation award by BTP Chief Constable Andrew Trotter at a ceremony in Glasgow City Chambers.
Ch Supt Ellie Bird, Scotland divisional commander, said: "Emily is truly deserving of this award and without her commendable and brave actions the outcome could have been so much worse.
"The Scotland division is really grateful for the assistance of Emily and others and this ceremony is our chance to say a big thank you and recognise their contributions."