Alan and Gary Mitchell jailed for £400,000 Rolex raid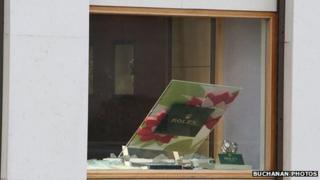 Two men have been jailed for a total of 14 years for a "terrifying" armed raid on a jewellers in East Renfrewshire.
Cousins Alan Mitchell, 34, and 20-year-old Gary Mitchell targeted Eric N Smith jewellers in Ayr Road, Newton Mearns, on 13 April, with another unknown man.
They stole Rolex watches worth £400,000 and caused damage costing £210,000 during the 33-second robbery.
They threatened the owner and his wife with a machete while display cases were smashed with hammers.
At the High Court in Edinburgh, Alan Mitchell was sentenced to eight years in prison.
Judge Lord Jones noted that his criminal record included convictions for the use of weapons - among them a five-and-a-half-year sentence for using a firearm during a bank robbery.
Gary Mitchell was sentenced to six years detention.
'Terryfying experience'
Lord Jones told them: "This must have been a terrifying experience and the raid was carefully planned."
A third raider is still at large.
At an earlier trial the jury were played CCTV footage which showed the masked robbers walking along Ayr Road, with one of them carrying a large lump of concrete on his shoulder.
This stone was used to hold open the shop door.
One of the robbers threatened the owners Eric Smith and his wife Yvonne with a machete while the other two smashed display cases containing Rolex watches with hammers.
Defence QC Gordon Jackson said father-of-three Alan Mitchell, who did not give evidence at the trial, was maintaining his silence and his denial that he had participated in the raid.
Solicitor advocate John Carroll, for Gary Mitchell, said he had been trying to turn his life around.
"It is clear that those efforts have been fruitless," said Lord Jones.
The judge also made an order extending the time Alan Mitchell will remain on licence by two years.