Pair jailed for murdering Mark Donnelly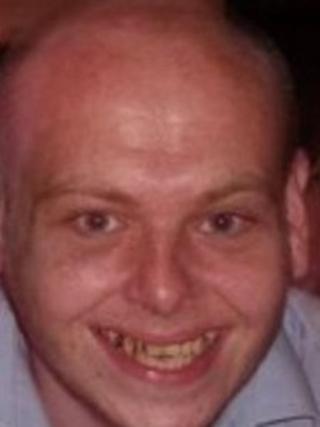 A man and woman who murdered a friend in a brutal attack which left him with 114 injuries have been jailed for life.
Martin MacMaikain, 28, from Bellshill and Amanda Cook, 22, from Coatbridge, blamed each other for the horrific death of 27-year-old Mark Donnelly.
But they were convicted by a jury of the brutal killing at Hozier Street, Coatbridge, on 26 May.
At the High Court in Glasgow, Cook and MacMaikain were told they must each serve a minimum of 20 years in prison.
During the trial, both accused blamed each other and claimed the attack was sparked by Mr Donnelly trying to sexually abuse Cook.
Jailing them, temporary judge Rita Rae QC told the pair: "You have been convicted of an appalling and senseless killing.
"There were 114 injuries, most of them attributable to your joint attack when you repeatedly punched, kicked and stamped on him. Many of them were inflicted when he was disabled and unable to defend himself.
"After the attack you abandoned him to his fate, although he was likely dead by then, and you carried on drinking."
Judge Rae added: "You have destroyed a young man's life and caused immense suffering to his family. You have shown no real remorse whatsoever and both tried to avoid responsibility by blaming each other."
She also criticised the pair for trying to blacken Mr Donnelly's name and stated: "I do not accept that Mr Donnelly tried to sexually assault you Miss Cook."
The court heard that the night of the attack was the first time that MacMaikain and Cook had ever met.
Attack claims
Mr Donnelly, from Motherwell, who was about to receive £6,000 in criminal compensation following an assault, was friends with both of them and introduced them.
During the evening MacMaikain kept telling Mr Donnelly that he would put his compensation in the bank for him.
Cook claimed that Mr Donnelly kept trying to cuddle and kiss her and added: "I said to Martin just give me a hand I don't want him cuddling me. The next minute Martin punched him."
She claimed MacMaikain attacked Mr Donnelly twice, during which he jumped on the victim's head and body.
Under cross-examination, Cook admitted that at one point, rather than trying to break up the fight, she had her foot on Mr Donnelly's neck and then smashed it on top of his chest with her full weight.
In his evidence, MacMaikain admitted punching and kicking Mr Donnelly, but denied murdering him.
The pair were convicted of murder after the jury heard how Mr Donnelly suffered 114 injuries including brain damage and a ruptured aorta.
Pathologist Julie McAdam told the court she had only ever seen such injuries before in car crash victims.