Barry McGrory fails to overturn Paul McGee murder conviction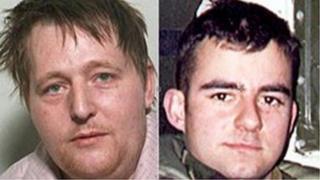 A man who is serving a life term for murdering a decorated soldier has failed to overturn his conviction.
Barry McGrory, 32, fatally stabbed 28-year-old Scots Guardsman Paul McGee outside his family home in Lochwinnoch, Renfrewshire, in October 2009.
His original conviction in 2010 was quashed on appeal but McGrory was convicted in a retrial and told he must serve a minimum of 20 years in prison.
The latest appeal was rejected at the Court of Criminal Appeal in Edinburgh.
Mr McGee and his girlfriend Helen Laycock had been returning home in a taxi from a charity night out with their mothers when the events which led to his murder unfolded.
Taxi driver John Banach spotted McGrory driving slowly with his fog lights on and flashed before overtaking.
Roadside scuffle
The court heard that this enraged McGrory and his passenger Ian Wallace, who chased after the taxi.
Wallace jumped out and punched Mr Banach.
Mr McGee then stepped in before he and Wallace - who was described as "deranged" - became involved in a scuffle.
As the soldier lay on the ground, McGrory went back to his car, grabbed a fishing knife and stabbed him.
McGrory has always insisted that although the murder weapon was his knife - which he called "baby" - it was in the hands of Wallace at the time.
At the Court of Criminal Appeal, Lord Justice Clerk Lord Carloway - sitting with Lords Drummond, Young and Clarke - rejected a claim that a judge had hindered McGrory's attempts to pin the blame on Wallace.
The appeal judges also threw out McGrory's claim that the 20 years he was ordered to serve before he can apply for parole was too harsh.
In 2010, McGrory was jailed for life following his first conviction for the murder.
One part of his first successful appeal, that he did not receive a fair trial, was that one of the jurors who sat in judgement had been seen wearing a wristband for the armed forces charity Help For Heroes.
In December 2011, the Court of Criminal Appeal in Edinburgh ordered that a retrial take place.
That resulted in McGrory being jailed for life for a second time in November last year.
The retrial heard that Mr McGee was awarded the Queen's Commendation in July 2008 after risking his life trying to save a fellow soldier while on duty in Iraq.
The Guardsman had been working in an army recruiting office in Scotland at the time he was murdered on 25 October 2009.