Horse sculptures trot in to boost visitors to Hamilton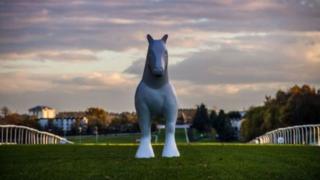 A tourist trail of giant Clydesdale horse sculptures will be set out around Hamilton next summer in a bid to boost visitors to the South Lanarkshire town.
The 10-week "Ready Steady Gallop" event will see 30 life-sized horses, designed and painted by local artists, placed at prominent locations.
Hamilton businesses will be encouraged to sponsor a horse.
At the end of the project, the sculptures will be auctioned off with proceeds going to Kilbryde Hospice.
'Really special'
Ready Steady Gallop is being organised by Hamilton Business Improvement District (BID) and Wild in Art, a firm which produces "mass participation art events".
Gareth Walker, Hamilton BID manager, said: "This is the first event of its kind in the west of Scotland and it is going to be something really special for locals and visitors to get involved with.
"The spectacle of the horses will hopefully draw people from far and wide, and we hope to raise fantastic sums for Kilbryde Hospice.
"Wild in Art has created some amazing events in other towns which have drawn thousands to see their sculptures and we hope that our Clydesdales will be just as popular."
The Clydesdale was chosen as the theme for the event due to Hamilton's proximity to the Clydesdale Valley.
Organisers want to celebrate the role of the animals in the livelihoods of people who worked the land throughout Lanarkshire.
Wild in Art director Charlie Langhorne said: "We hope the industries and businesses in Hamilton will recognise the cultural benefits of sponsoring a sculpture as well as the positives for their own community.
"It will be a fantastic spectacle for the people of Hamilton and is an excellent way to raise vital funds for Kilbryde Hospice."