Lynda Spence killer Colin Coates to appeal over cross-dress video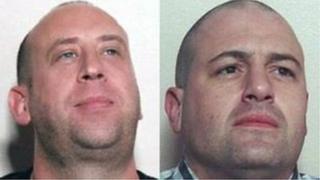 A murderer is appealing his conviction after a newspaper published a video of him dressed as a woman before the jury returned its guilty verdict.
Colin Coates, 43, was jailed for a minimum of 33 years for the murder of businesswoman Lynda Spence.
His legal team is arguing that the appearance of the video prejudiced his right to a fair trial.
Coates' accomplice Philip Wade, 42, is serving a minimum of 30 years for killing 27-year-old Ms Spence.
She was last seen in Glasgow in 2011. Her body has never been found.
Coates is challenging his conviction, and his legal team have made a bid to amend his grounds of appeal to include the appearance of the video.
'Prejudicial material'
His counsel Gordon Jackson QC told judges at the Court of Criminal Appeal in Edinburgh: "We do on occasion decide there can't be a fair trial because material has been so prejudicial."
He argued that if the material was being seen by a very large number of people, then "we have crossed the line" in terms of prejudicing the trial.
Advocate depute Douglas Fairley QC said the ground of appeal was "misconceived" and began from an erroneous factual basis.
He said the video was on an iPad edition of the Daily Record from 29 March until it was removed on 2 April.
Video clip
The newspaper later published material after the trial with Coats dressed as a woman and featuring a clip in which he reportedly said: "New gangster in town seeks young men for extortion, abduction and tying up...funerals and bar mitzvahs. Call 1-800 Supertranny."
Lord Carloway said the court required to know the factual position and continued the application to amend the grounds of appeal until next month.
Coates and Wade forced Ms Spence into a car on Broomhill Path, Glasgow, in April 2011 before she was driven to a flat in West Kilbride in Ayrshire.
She was taped to a chair and subjected to violence during which she was burned with an iron, struck with a golf club and had her thumb cut off.
She was then murdered and her body disposed of.