Glasgow 2014: Commonwealth Games baton nominations deadline extended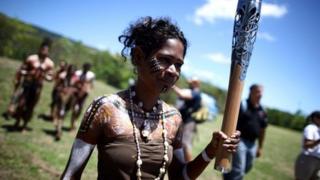 The deadline for nominations to carry the Commonwealth Games Baton during its relay around Scotland has been extended by a week.
Applications were originally to have been submitted by Friday of this week.
But the organisers have said they will now now accept nominations until 17:00 on Friday 29 November.
They said the extension was to give those who have been nominated more time to return emails confirming their acceptance.
Organisers need 4,000 people to carry the baton through Scotland's 32 local authorities in June and July of next year.
A spokeswoman for the Games said new nominations could still be made, but they must be accepted by the nominee and fully completed by next week's deadline in order to be considered.
She added: "Among our wealth of nominations there are a few people still to accept the opportunity. They might not have checked their email - or they might just be shy.
"We don't want anyone to miss out or let this special opportunity pass them by. We're keeping the website open for seven days to let all nominees complete their details."
The baton is currently travelling around the 70 nations and territories of the Commonwealth and will arrive in Scotland on 14 June.
It will then tour the country for 40 days before taking centre stage at the opening ceremony of the Commonwealth Games, when the Queen's message will be taken out and read.
Baton bearers can be nominated on Glasgow 2014's website.