Emanuel Risti jailed for raping woman in Glasgow lane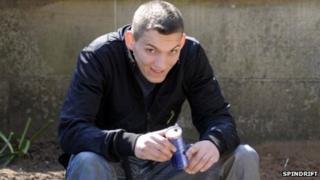 A teenager who admitted raping a 39-year-old woman in Glasgow city centre has been jailed for seven years.
Romanian national Emanuel Risti was 16 years old when he and another man attacked the woman in Renfrew Lane, near the Pavilion Theatre, on 11 February 2011.
The 18-year-old pleaded guilty at the High Court in Glasgow after his brother Roberto gave evidence against him.
An earlier trial was abandoned after the two brothers returned to Romania.
Temporary judge Norman Ritchie also placed Risti on the sex offenders register.
He told the teenager: "You pose a very high risk of committing further sexual offences. You present a danger to the public, particularly women."
Victim 'devastated'
He added: "Your victim's life has been devastated by the actions of you and the other man.
"You and the other man saw an intoxicated woman on the streets of Glasgow.
"She was vulnerable and you took advantage of her. You took her to a deserted alleyway where you carried out an attack on her."
The court heard that the first trial against Risti collapsed after his brother Roberto, who was a crucial witness, returned to Romania halfway through giving evidence.
A further indictment was served on Emanuel Risti, but he fled to Romania because he did not want to go to jail.
He was finally arrested on a European arrest warrant and returned to Scotland.
Roberto Risti, who was with his brother on the night of the rape, voluntarily returned to Scotland in October and gave evidence against his brother.
If he had not done this it would have been impossible to bring him back to Scotland.
The Romanian authorities do not recognise failing to attend to give evidence against a family member as a crime, and refused to grant a European arrest warrant.
The court heard that the victim had been on a night out with friends and was walking home along Sauchiehall Street when she came across the Risti brothers and another man.
'Don't do it'
The woman, who cannot be named for legal reasons, was taken up the lane by the third man and Emanuel Risti.
According to Roberto Risti, the first man raped her while she shouted: "No."
The woman was then raped by Emanuel Risti.
In his evidence, Roberto Risti said: "I was saying to him don't do it."
The court heard that the woman managed to make her way home after the attack, but was bleeding. Her son was so concerned he alerted the police.
Detectives were told the suspects were flower sellers on Sauchiehall Street.
CCTV footage showed Emanuel Risti had been in the city centre for hours.
He was captured on camera at 21:30 walking past Campus bar in Sauchiehall Street.
Then at 01:00 Emanuel Risti was seen again in Sauchiehall Street carrying a bunch of flowers.
Defence QC Frances McMenamin said: "Mr Risti has told me he regrets what he did and would hate to have what happened to her happen to his wife.
"Initially his position was that he thought that because there had been no resistance from the complainer that she had been a willing party to have sex with him."
Ms McMenamin added that Risti was also frightened of the other man, who she said had "a reputation in Romania".