Amsterdam disorder: Five Celtic fans guilty of using violence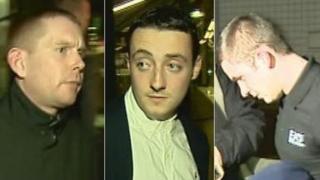 Five Celtic fans have been found guilty of using violence against Dutch police ahead of the club's game against Ajax.
At a court in Amsterdam, Padraig Mullen, 28, and Damian Dobbin, 23, were jailed for two months, Thomas Kennedy, 30, and Andy Vance, 21, for six weeks and Joseph McPherson, 20, for a month.
All five were released immediately pending an appeal. John Quigley, 49, was acquitted due to lack of evidence.
The court awarded damages of between €250 and €500 to four injured officers.
The judge said police had used force in dealing with the riot on 6 November, but it had not been excessive.
'Going home'
He said the men should have left Dam Square when trouble erupted, but instead they reacted by using violence.
The men, who had denied the charges against them, are free during the two-week period in which they can appeal.
Leaving Amsterdam District Court on Thursday, Dobbin told the BBC he was pleased "to be going home."
During the hearing, the fans on trial said they believed they were being attacked by hooligans when they were arrested by undercover police officers.
One told the court the police acted in a heavy-handed way.
Dobbin said six or seven police came from nowhere and used terrible violence.
He said he believed he was fighting for his life.
Fans 'provoked'
Dutch Police said eight undercover officers were injured during violent clashes in the city centre.
During the disorder, police made 44 arrests. Of the 28 Celtic supporters held, 22 were freed - 10 without charge and 12 after paying fines.
Some of the disorder was said by police to have been sparked by Dutch fans getting hold of a flag which Celtic supporters had.
Celtic Football Club said there was "no excuse for any form of violent conduct" but stressed that many fans had been "subjected to a high degree of provocation".
The club has launched its own investigation into the disorder.
Some Celtic fans have also been collating footage, images and personal accounts, which they say support the view that undercover police attacked them and used heavy-handed tactics.