Scottish Ten 3D project unveils Sydney Opera House scan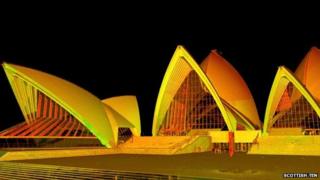 A Scottish project to produce a precise 3D map of Sydney Opera House has been unveiled to mark the iconic Australian building's 40th anniversary.
The Scottish Ten group took more than 800 laser scans and 56,000 digital photos to produce the map.
The 3D Opera House will allow people to take a virtual tour and help with ongoing conservation and maintenance.
The Scottish Ten was set up to record 10 Unesco World Heritage Sites - five of which are in Scotland.
The five-year collaborative project involves specialists from Historic Scotland, Glasgow School of Art and not-for-profit digital heritage organisation, CyArk.
The Opera House joins Mount Rushmore in the US, India's Rani ki Vav (The Queen's Stepwell) and China's Eastern Qing Tombs as one of five international heritage sites to be preserved.
'World-class expertise'
The fifth international site has yet to be chosen.
In Scotland, the St Kilda ruins, the Heart of Neolithic Orkney and New Lanark's 18th Century mills have also been scanned.
Announcing the new virtual Sydney Opera House, Culture Secretary Fiona Hyslop said: "The Sydney Opera House is one of the world's most recognisable buildings and an icon of 20th century architecture.
"What better way for Scotland to help mark the 40th anniversary of this iconic structure than by lending our world-class expertise in the field of digital scanning to help safeguard its future."
Sydney Opera House chief executive Louise Herron said she was "astonished" by the potential of the 3D map.
"We will use it in our education programmes and to engage with new audiences online," she said.
"People will be able to explore the Opera House no matter where they are.
"We already have applications in development for public release during our 40th anniversary year."