BAE staff told 1,775 job losses 'over next three years'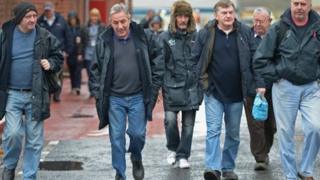 BAE Systems has told staff at its UK shipyards that 1,775 job losses will be phased in over the next three years.
Some 940 staff posts and 170 agency workers will go at Portsmouth, which is also losing shipbuilding.
A further 835 jobs will go at yards in Govan and Scotstoun, on the River Clyde in Glasgow, and Rosyth in Fife and at the firm's Filton office, near Bristol.
Workers were told on Thursday that a trawl for voluntary redundancies would begin next Monday.
They were also told the redundancies would affect every part of the workforce.
The programme of job-shedding in the Scottish workforce is expected to start with nearly 190 jobs going within the next three months, many of them painters.
'Constructive discussions'
Next year is scheduled to see nearly 120 more jobs go.
In 2015, more than half of the total is due to go, and then 100 jobs in 2016, leaving a workforce of around 2,400.
By contrast, the Portsmouth workforce is to see all 940 shipbuilding jobs lost during next year, with most going in the second half of 2014. Management and unions are looking for ways to transfer staff from the yard into maritime services, which employs more than 3000 people in the naval dockyard.
A spokesman for BAE said: "We have held two days of constructive discussions with our trade unions.
"This is the start of an extensive consultation process and we are committed to working tirelessly together to explore all potential options to mitigate the impact of our proposals on our employees."
Jamie Webster, GMB union convenor at BAE's Govan yard, described further news on job losses from management as "a mixed bag".
"On the plus side, the redundancies are scheduled over three years, which eased the pain slightly," he told BBC Scotland.
"On the downside, some of the sections are getting hit very, very quickly."
He said that by the nature of the business some trades across the shipyards would be "hit harder" than others.
"All will have to experience some sort of pain, and they appreciated that," he said.
Mr Webster said there were "a few things" where the union was "not entirely happy with the company's approach", but he did not give details.
He said those issues would be the subject of "more dialogue".
The union convenor said redundancy notices had been served on the workforce on Wednesday and the search for volunteers would begin next week.
"We expect a reasonable response from that because we do have a significant proportion of an ageing workforce," he said. "That will ease the strain a bit."
Mr Webster said the workforce had dealt with news of the job cuts "admirably" and with "great resilience".
Independence row
He added: "We'll all stay unified and we'll all stay dignified and that's what will take us through."
Following last week's job loss announcement, a row broke out between Scottish Secretary Alistair Carmichael and Scotland's Deputy First Minister Nicola Sturgeon over the impact on shipbuilding of a "Yes" vote in next year's independence referendum.
Mr Carmichael said it would be "difficult to see how the work would go to Scotland" if it was independent but Ms Sturgeon said any suggestions of work being lost was "preposterous" and said the Clyde ports were now the only places in the UK which could carry out the construction work.
Mr Webster dismissed any suggestion that the referendum was a major factor for the workforce.
"We have no intentions over the next 10 months of worrying about politics," he said.
The union convenor said the workforce would "focus on the ships we're building and the rest will take care of itself".
Meanwhile, a defence minister told MPs on the House of Commons Scottish Affairs Committee that the construction of warships for the Royal Navy is likely to be moved away from the Clyde to Portsmouth if Scotland votes for independence next year.
Appearing before the committee on Thursday, Andrew Murrison rejected suggestions that the only yards capable of carrying out the work were in Glasgow.
He claimed it would be possible to revive shipbuilding in Portsmouth after a Yes vote north of the border, and said there were other locations - such as Barrow - which might be able to do the job with sufficient investment.