Star Wars sequel: Open auditions in Glasgow postponed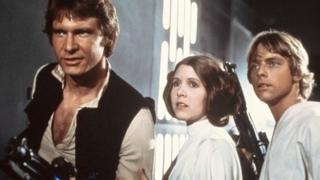 Producers of the next Star Wars film have postponed open auditions in Glasgow this weekend to find a bigger venue amid huge expected interest.
Lucasfilm/Disney planned to audition for two lead roles on Saturday and Sunday at Glasgow's Wasp Studios in the Southblock building in Merchant City.
This has now been put back to 30 November and 1 December with a venue to be announced in the next few weeks.
The decision comes after huge numbers turned up to auditions in Bristol.
In a statement, Lucasfilm said: "Originally scheduled to take place at Southblock - Wasp Studios, due to the overwhelming response at recent sessions the casting team is in the process of searching for a venue that can best accommodate projected attendance numbers.
"We sincerely apologise for any inconvenience."
'Exciting time'
The statement said the new location would be announced on Twitter and Facebook "the week of each scheduled session".
It added: "We thank everyone for their patience and appreciate their enthusiasm during this exciting time and to the hopefuls, May the Force be with you!"
The producers are looking for a "street smart" girl in her late teens and a "smart capable" man in his late teens or early 20s.
Disney bought Lucasfilm, the production company behind the Star Wars series, in October 2012.
Star Wars: Episode VII is scheduled to begin shooting at Pinewood Studios in spring 2014, for an expected 2015 release.