Funeral held for Jack Alexander of The Alexander Brothers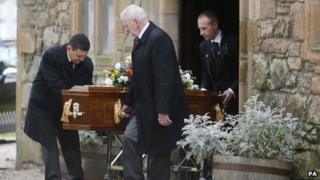 The funeral of Scottish musician Jack Alexander of The Alexander Brothers has taken place.
Jack and his brother Tom toured the world during a career spanning more than 50 years, and were awarded MBEs for services to entertainment.
Mr Alexander, who was 77, died peacefully with his family around him at Ayrshire Hospice last weekend.
Variety stars including Andy Cameron, Sydney Devine and Christian were among those who attended the service.
It took place at the Auld Kirk in Ayr.
Entertainer Johnny Beattie gave the eulogy, in which he remembered performing with the brothers as "such a joy, such a pleasure, such a delight".
He said: "Thanks for the memories, Jack."
Jack and his 79-year-old brother Tom, who were from Cambusnethan in North Lanarkshire, started their professional career at Webster Theatre in Arbroath in 1958.
Both were classically trained and played from a young age.