'No blackmail' over Govan and Scotstoun shipyard jobs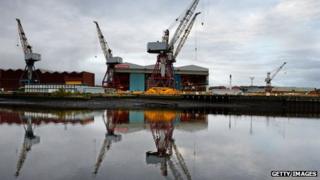 Scottish Secretary Alistair Carmichael has denied "holding a gun to Scotland's head" over shipbuilding jobs.
Staff at BAE's shipyards, which include two facilities on the Clyde, were told on Wednesday that almost 1,800 of them were facing redundancy.
Mr Carmichael has argued Scotland would find it "difficult" to win UK government shipbuilding contracts if the country votes for independence.
The SNP had accused him of trying to blackmail Scots into voting "No".
The cuts are likely to affect about 800 jobs in the Govan and Scotstoun shipyards on the River Clyde in Glasgow, and at Rosyth in Fife.
However, shipbuilding is to end completely at BAE's yard at Portsmouth, with the loss of more than 900 jobs, while the Clyde yards have been earmarked for building the Royal Navy's new Type 26 warships.
UK Defence Secretary Philip Hammond said the designs for the new ships would not be finalised until the end of next year, which would be after the Scottish independence referendum on 18 September.
Speaking after a visit to the Govan yard, Mr Carmichael told the BBC: "There is no question of anybody holding guns to anybody's head.
"What we have got here is a very positive situation. It is an illustration of the opportunities that exist for Scotland and Scotland's industries as part of the United Kingdom.
"It is for those who do not want Scotland to be part of the United Kingdom to explain how life will be for them."
The Scottish government has dismissed suggestions that a "Yes" vote would put future shipyard orders in doubt and said joint procurement of Type 26 vessels could be possible.
Jobs guarantee
Mr Carmichael was asked by BBC correspondent Laura Bicker why the remainder of the UK would be unable to work with an independent Scotland when it was already working alongside Australia on developing the Type 26 frigates.
He responded: "The question is where will a sovereign nation build its own warships? Their own warships are built within the borders of the country that commissions them.
"Of course there are opportunities for joint working, we know that. But the fact is that what we have got here is something that is certain.
"It doesn't depend on partnership with anybody else, and you are not looking at trying to renegotiate what you have just given away. Why would that make sense for anybody?"
Meanwhile, Labour leader Ed Miliband refused to offer a jobs guarantee to shipyard workers on the Clyde if Scotland decides to back independence.
During a visit to Edinburgh, he was asked to say whether he, as a potential future prime minister, would offer to protect the work on the Clyde irrespective of the referendum result.
He responded: "I want us to win the referendum - I think it's incredibly important that Scotland remains part of the United Kingdom.
"If there is uncertainty, it is uncertainty caused by the Scottish National Party - uncertainty caused by a party that wants to split away from the United Kingdom.
"The best way, not just on naval capacity and shipbuilding, but on currency and economic policy, is for Scotland to stay part of the United Kingdom."
Joint procurement
Asked again to offer a guarantee, he said: "When it comes to your naval capacity you've got a take a long, hard look at the way these things are done. I'm not contemplating defeat in the referendum."
Scottish Labour leader Johann Lamont had earlier told Holyrood that Scottish independence would "threaten" jobs.
But Deputy First Minister Nicola Sturgeon accused her rival of trying to blackmail people into voting "No".
Ms Sturgeon, who was standing in for First Minister Alex Salmond while he is on a visit to China, said the BAE cuts announcement meant the Clyde was now the only part of the UK where complex warships could be built.
She told Ms Lamont: "This is a question about what happens after Scotland has democratically voted for independence, and surely she is not going to threaten and bully and seek to blackmail Scottish shipyards."
The deputy first minister stressed the need to "build an alternative future for our shipyards with naval procurement as a part of that yes, but looking at what we do to boost exports, looking at what we do to diversify".
She said that regardless of the outcome of the independence referendum "we are seeing a a downsizing of the shipbuilding industry and in a few years time we will be asking ourselves what comes next, because there's nothing in the MoD locker after Type 26".
Ms Sturgeon went on: "This is a challenge for all of us, whether Scotland is independent or not. If we want the future of our shipyards secured, we have to work to find a way.
"UK defence contracts are already let outside of the UK. It's not that long ago the MoD let a contract for a military vessel to Korea, the MoD leases military vessels from Norway
"Is Johann Lamont's point that it is only a future independent Scotland that the UK government wouldn't and couldn't collaborate with?"
Scottish Conservative leader Ruth Davidson said the Scottish government must support a drive for increased investment to upgrade the Clyde yards so they could cope with building the next generation of warships.