Terrorism suspects remanded in custody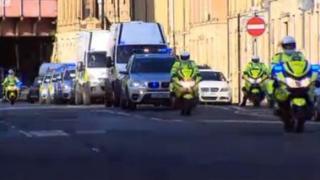 Five people with alleged links to dissident Irish republicanism have made a second private appearance in court charged with terrorism offences.
Four of the accused were also charged with a plot to murder Johnny Adair and Samuel McCrory, former high-profile members of the loyalist UDA.
The five are charged with offences between 1 February and 23 October at a house in the Cathcart area of Glasgow.
They were remanded in custody and are expected to stand trial next year.
Martin Hughes, 34, Anton Duffy, 39, and 27-year-old Stacy McAllister, all from Glasgow; Paul Sands, 30, from Ayr; and Edward McVeigh, 26, from Portpatrick, were detained during police raids across the country on 23 October.
All except Mr McVeigh are charged with offences under the Terrorism Act 2006 and conspiracy to murder.
Mr McVeigh was charged with terrorism offences.
All five are accused of plotting to carry out a terrorist campaign in the UK.
It is alleged they tried to get hold of firearms and explosives with a view to carrying out terrorist offences, including "damage to property and murder of civilians".
A convoy of police motorbikes, police cars and support unit vans were used to bring each of the accused to and from the court.
They each appeared separately in private at Glasgow Sheriff Court for full committal.
They made no plea or declaration and were remanded in custody and are expected to stand trial next year.
The operation was led by Police Scotland and also involved the Police Service of Northern Ireland and the security service.
After the operation, Police Scotland said it had focused on the "activities of individuals sympathetic to dissident Republicanism, but who are not affiliated to any specific group".