New fears for Govan shipyard's future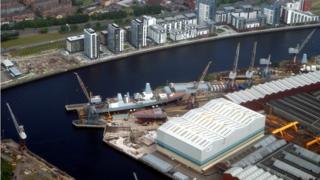 The removal of cranes at BAE Systems Govan has prompted new concerns about the future of the shipyard.
The company said last year that it had to consider closing one of its major shipyards, a move which could threaten more than 1,000 jobs.
Govan MSP Nicola Sturgeon called on the company to "come clean" on its plans for the Glasgow operation.
BAE Systems said the decommissioning of the cranes was unrelated to the review of the yard's future.
BAE is looking at its long-term plans for Portsmouth and the two yards in Glasgow - Govan and Scotstoun.
Deputy First Minister Ms Sturgeon, who was speaking in her capacity as the local representative for Govan, said: "There's mounting speculation in the yard that it doesn't have a future. BAE has to come clean. The workforce has been through the mill too many times before.
"It would be outrageous if Govan doesn't have a future. There is a duty on the company to make clear its intentions.
"I would hope the decision to take down the cranes would be put on hold until a decision on the future of the yards is made."
New cranes
She said the workforce had been waiting for a statement from the firm on the future of the yard for "months".
She added: "It may be true that the dismantling of the cranes is incidental to that, but nevertheless it doesn't help at a time when the workforce is already anxious".
A spokesman for BAE Systems said the cranes had not been used in the past five years and had been replaced by more modern cranes.
The company issued a statement which said: ''Clydeport are in the process of removing the decommissioned dockside portal cranes at Govan on behalf of BAE Systems as they are no longer fit for purpose.
"We now use safer and more efficient mobile cranes in the construction of our complex warships.
''BAE Systems are in ongoing discussions with the Ministry of Defence and are committed to keeping trade unions and employees informed.''