Registration opens for new smartcard for Glasgow Subway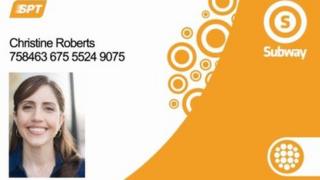 Passengers on Glasgow's Subway are being encouraged to register for a new smartcard after an upgrade of ticketing systems at all 15 stations.
The card, which is expected to become operational in weeks, can be topped up and does not time-limit journeys.
Payments may be made by cash or card and passengers will be able to manage their accounts via the internet and on mobile phones from next year.
Glasgow's Subway system caters for about 13.5 million passengers annually.
Gordon Maclennan, chief executive of subway operator Strathclyde Partnership for Transport (SPT), said: "SPT is carrying out a full-scale modernisation of the world's third-oldest subway system and the switch over to smart technology is another key milestone for us.
'Secure travel'
"Smartcards will mean an end to paper tickets and easier, quicker journeys with fewer queues at ticket offices.
"I would encourage anyone who uses the subway to apply now for their own card. It is reusable and is the most secure way to travel as it's unique to the individual."
SPT said it had received about 500 applications for the new smartcard by early on Wednesday. It can supply as many as are needed.
The transport body said the new technology would allow it to form a better picture of how passengers are using the subway.
This should better inform future decisions about services such as adding extra trains or making promotional offers to passengers.