Late night opening for Jack Vettriano retrospective at Kelvingrove Gallery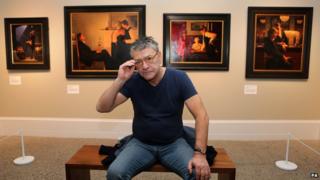 Glasgow's Kelvingrove Art Gallery is to open late to deal with demand for its current Jack Vettriano exhibition.
More than 37,000 people have visited the retrospective since it opened in September, with an average of 1,000 ticket sales a day.
Glasgow Life, which runs the city's museums, has announced it will stay open until 20:00 on Friday 8 November.
It is only the second late night opening for the venue since it was refurbished in 2006.
More than 100 of Vettriano paintings, from private collections around the world, feature in the first major retrospective of the artist's work.
The exhibition opened on 21 September and will run until 23 February 2014.
Some of Vettriano's best-known paintings are being showcased including Dance me to the end of Love (1998), Mad Dogs (1992), Long Time Gone (2006), Bluebird at Bonneville (1996) and The Billy Boys (1994).
Glasgow Life said the appetite for the retrospective had surpassed all expectations.
Chairman, Councillor Archie Graham, said: "The tens of thousands of people who have taken in this wonderful exhibition are testament to the fact that the people of Glasgow and beyond are also thrilled the city is able to bring together some of the great treasures from Jack's career.
"We are delighted to be able to open the museum later on 8 November, giving the public another opportunity to enjoy the retrospective."
Tickets for the late night opening are available in advance or on the door and every visitor will receive a limited edition poster.