Closing speeches in Clive Carter SECC murder trial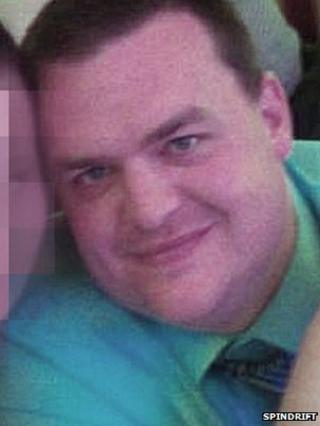 Closing speeches have been made in the trial of a security guard accused of murdering a female conference delegate at the SECC complex in Glasgow.
Prosecutor John Scullion said Clive Carter was "cold-blooded" and had shown "no regret or remorse" for his actions.
Defence QC Ian Duguid said Carter's personality disorder was responsible for the way he acted.
Carter denies murder but admits killing Khanokporn Satjawat while suffering from diminished responsibility.
Mrs Satjawat, 42, from Thailand, died while attending a conference for HIV drug therapy at the Clyde Auditorium, which is part of the SECC complex, on 12 November 2012.
She sustained massive head and facial injuries after being battered with a fire extinguisher in a female toilet.
Carter, from Motherwell, North Lanarkshire, was working as a security guard at the venue at the time of the incident.
He has claimed he has no memory of the killing or alleged attempts to cover it up.
Victim abandoned
In his closing speech, advocate depute Mr Scullion said: "Clive Carter's actions after Khanokporn Satjawat's death were those of a cold-blooded man who knew exactly what he was doing.
"He showed no regret or remorse for what he had done and he made no attempt to assist Khanokporn Satjawat or get medical help in a building full of doctors."
He added: "Such was the lack of interest or concern for Khanokporn Satjawat's fate that minutes after beating her to death Clive Carter was seen sitting in the rest area eating his sandwiches."
Mr Scullion said Carter claimed he asked to see Mrs Satjawat's security pass and that she responded by "shoving" the badge in his face and that he only knows through his legal team disclosing evidence that he killed her with a fire extinguisher and he has no memory of the attack.
He told the jury: "I suggest Clive Carter lied to you about his lack of memory about this important evidence."
Mr Scullion said Carter has always known he is responsible for her death.
The court was told that Carter claimed he did not know why he removed his jacket and left it in the toilet then said he could not remember where he then put it, but the prosecutor said it was "an attempt by him to engineer a scenario" to explain the blood on it.
'Brutal and merciless'
He was described as "calculated and devious" in the hours after the killing.
In urging the jury to convict Carter of murder, Mr Scullion said that the emotionally unstable personality disorder Carter suffers from, was not at the severe end of the spectrum.
Mr Scullion said: "This was a brutal and merciless attack on a defenceless woman who was doing nothing but going about her business.
"She was attacked by a man being paid to ensure she was safe when going about her business.
"Clive Carter had no concern about Khanokporn Satjawat as she lay battered on the floor in the ladies toilet.
"He did what was required to avoid the consequences."
In his closing speech, Mr Duguid said that Carter suffers from a personality disorder - emotionally unstable personality disorder of the impulse type - and claimed it was this that caused him to act the way he did.
He told the jurors that their choice was between murder and culpable homicide and said that they must not think that opting for culpable homicide was choosing a soft option.
'Brutal killing'
The QC said: "This is a brutal killing of a lady in the toilets of the Clyde Auditorium. The perpetrator should not be at liberty for some considerable time.
"Don't think convicting Mr Carter of culpable homicide will make any difference to this."
Mr Duguid said that it only took seconds for Carter to beat Mrs Satjawat to death with a fire extinguisher and added there was no planning at all.
He said that this fitted with the description of the personality disorder by psychiatrists.
Mr Duguid added: "There is no motive whatsoever."
Referring to the possible verdict of culpable homicide due to diminished responsibility open to the jury.
Mr Duguid said: "You shouldn't look at this as an easy way out for someone charged with murder."
The QC said that Carter had been forced to admit in evidence to domestic abuse and added: "I'm not asking you to like him, only to take a decision on whether he was mentally impaired at the time he attacked Miss Satjawat.
"Is he just a bad person? Maybe that's right. He was a killer in the community. What was the reason for him to be like that?
"The injuries are terrible. There is uncontrolled violence. It happened almost in the blink of an eye.
"This was an aggressive attack while his ability was impaired by his personality disorder."
The trial before judge Lord Matthews continues.