SECC murder accused Clive Carter has 'violent temper'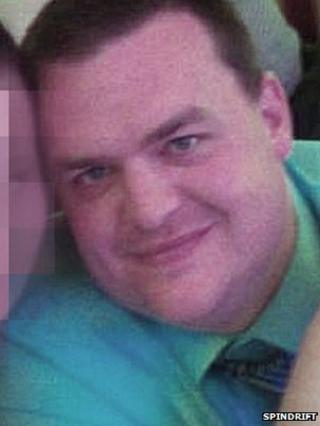 The wife of a security guard charged with murdering a conference delegate at Glasgow's SECC complex has told his trial he has a violent temper.
Paula Carter told the High Court in Glasgow that she had called police on a number of occasions about her husband Clive's outbursts towards her.
Carter, 35, denies murdering Khanokporn Satjawat, 42, from Thailand, at the Clyde Auditorium on 12 November 2012.
He has admitted killing her while suffering diminished responsibility.
Mrs Satjawat died while attending a conference for HIV drug therapy at the Clyde Auditorium, which is part of the SECC complex.
She sustained massive head and facial injuries after being battered with a fire extinguisher in a female toilet.
Carter, from Motherwell, North Lanarkshire, was working as a security guard at the venue at the time of the incident.
He has claimed he has no memory of the killing or alleged attempts to cover it up.
'Breaks stuff'
During evidence on Friday, Mrs Carter said her husband could be violent but denied saying that he was manipulative.
The witness was asked by advocate depute John Scullion, prosecuting: "Is your husband manipulative, does he manipulate you?" She replied: "No."
Mr Scullion referred to a statement in which Mrs Carter allegedly said her husband was manipulative.
He asked her: "Does it say: 'If Clive doesn't get his own way he's like my eight-year-old. He stamps his feet, breaks stuff. He's manipulative.' Did you say that to the police?"
Mrs Carter replied: "I don't know."
The prosecutor accused Mrs Carter of "choosing not to remember." She replied: "Please don't put words into my mouth," then added: "I can't remember."
Asked if her husband had ever strangled her, Mrs Carter said he had done so once.
He showed her a police statement taken on 13 January in which she stated: "I didn't have any marks or bruises. He just strangled me to the point of going red and then he let me go."
Mr Scullion asked: "Did you say that to the police?" Mrs Carter replied: "I don't know, I don't know what the context is. I don't remember the conversation. I can't remember saying that."
'Wrecked kitchen'
She did admit to the jury that Carter often had episodes of explosive rage where he would throw things at her. These items included a coffee table and a laptop.
She told the jury: "He threw whatever was to hand." She also revealed that on one occasion when he could not find a tin opener he wrecked the kitchen.
Mrs Carter said: "The only thing left standing was my microwave."
She denied trying to protect her husband, adding: "I don't excuse what my husband has done at all."
She also told the prosecutor: "You are trying to portray me as a battered wife. I'm not, I give as good as I get."
She told defence QC Ian Duguid that after the violent explosive incidents Carter could not remember what he had done.
The witness added: "Once when he pushed me to the ground in a rage he came back into the room and said what are you doing on the floor. He didn't realise what he had done until I told him."
The QC then asked: "Is he able to control himself when he's in one of his explosive rages?" She replied: "No."
Psychiatrist Dr John Crichton told the jury that he believed Carter had an emotionally unstable personality of the impulse type.
The trial before judge Lord Matthews continues.