Kelvingrove Museum displays 14 new acquisitions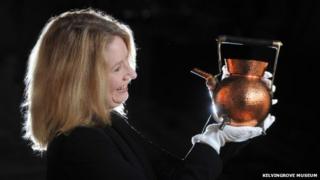 Glasgow's Kelvingrove Art Gallery and Museum is showing 14 new acquisitions in a major redisplay of Charles Rennie Mackintosh and Glasgow Style works.
The eight purchases and six donations add new metalwork, ceramics, glass and stained glass to the collection.
They include pieces by David Gauld, Archibald Knox, Alexander Ritchie and Christopher Dresser.
The redisplay also features other works from Glasgow's civic collection which have not been on show for decades.
'Beautiful works'
The eight purchases were made with financial support from The National Fund for Acquisitions administered through National Museums Scotland, the Art Fund and The Heritage Lottery Fund.
Councillor Archie Graham, chairman of Glasgow Life, the body which runs Kelvingrove Museum, said the city had "arguably one of the finest civic collections in Europe" thanks to help from partner bodies who helped with funding.
"Together we have been able to bring beautiful works by important artists, several of them born in our great city, to the millions of people who visit Kelvingrove every year," he said.
"This new display provides plenty to marvel at and an opportunity to learn a little more about their influences and techniques."
Glasgow Life said the new acquisitions "reveal the skills, experimentation, influences and imagination" of artists working across Britain between the 1880s and 1930s in the Glasgow Style or part of the wider Arts and Crafts movement.
One of the new items on show is a stained and leaded glass panel entitled 'Music', which was designed by Glasgow Boy David Gauld.
The piece was made by the Glasgow stained glass workshop of Hugh McCulloch and Company around 1891.
Another new exhibit is a copper kettle by Christopher Dresser, a pioneer of the British Design Reform Movement, dating from about 1880 to 1885.
This piece was made by Benham and Froud of London.