SECC murder accused Clive Carter denies cover-up bid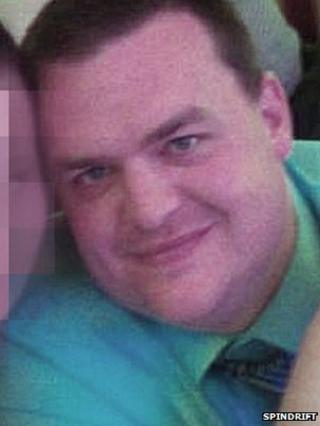 A security guard charged with murdering a woman with a fire extinguisher at Glasgow's SECC complex has denied deliberately attempting a cover-up.
Clive Carter, 35, from Motherwell, told the High Court in Glasgow: "I don't remember destroying the evidence."
He has denied murdering Khanokporn Satjawat, 42, from Thailand, at the Clyde Auditorium on 12 November 2012.
Carter has lodged a special defence, admitting culpable homicide due to diminished responsibility.
Mrs Satjawat died while attending a conference for HIV drug therapy at the Clyde Auditorium, which is part of the SECC complex.
She sustained massive head and facial injuries after being battered with a fire extinguisher in a female toilet.
The court was heard how Mrs Satjawat's blood was found on Carter's trousers and on the sleeve of his work blazer and cuffs of his shirt.
His DNA was also found on the sleeve of the jumper Mrs Satjawat was wearing.
Carter, from Motherwell, North Lanarkshire, was working as a security guard at the venue at the time of the incident.
He has claimed he has no memory of the killing.
He said he remembered arguing with his victim and the next thing he recalled was eating his sandwiches for lunch minutes later.
'No memory'
Giving evidence for a second day, father-of-three Carter was asked by advocate depute John Scullion, prosecuting: "Did you tell a psychiatrist that you have always known that you were responsible for the killing of Khanokporn Satjawat?"
He replied: "I was looking back on things. At the time of the incident I wasn't fully aware, it was only after having time to reflect."
Carter was asked why he had lied to the police and told them he had seen an Asian man walking about with a fire extinguisher and had taken it from him.
He replied: "At the time I thought I was helping the police."
Bloodstained clothing
When asked if he had in fact seen an Asian man Carter said: "In my head, yes."
Mr Scullion said: "Was it because you knew that two delegates had seen you with a fire extinguisher," and Carter replied: "I don't know."
He then added: "At the time I didn't know that."
Carter also told the jury he had no memory of washing blood from the fire extinguisher and then hiding it in a room in the complex.
Mr Scullion said: "You took the fire extinguisher down from the second floor to room 136 and the purpose for that was to clean it of blood," and Carter replied: "I don't remember."
He also denied hiding his bloodstained G4S blazer.
When asked by Mr Scullion: "This is all utter rubbish isn't it," Carter replied: "No it's not."
The trial later heard that Carter had told psychiatrist Dr Alex Quinn that he was in prison for "killing a woman" over a "silly" argument about checking a badge.
Carter also told the psychiatrist that Mrs Satjawat told him to stop pestering her and was annoyed at being asked to show her security pass.
Lying accusation
Earlier, Mr Scullion showed CCTV footage taken 16 minutes before her death which showed Mrs Satjawat was wearing her pass round her neck.
He then asked: "When you beat her with the fire extinguisher was she wearing her badge," and Carter replied: "Yes."
The prosecutor then said: "Was she wearing her badge when she left the auditorium to go to the toilet," and he replied: "No."
Mr Scullion went on: "Can I just suggest to you that you have been lying all day about your memory of this event," and Cater shouted: "No, not at all."
The prosecutor added: "You have known throughout that you beat her to death," and Carter again shouted loudly: "No, not at all."
Carter denies murdering Mrs Satjawat and attempting to defeat the ends of justice by hiding evidence.
The trial before Lord Matthews continues.