New firm Ascensos to create hundreds of jobs in Motherwell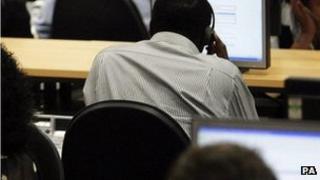 A new Scottish company is to create at least 600 jobs over three years from its base in North Lanarkshire.
Ascensos is creating the contact centre jobs in Motherwell on the site of the former Lloyds Banking Group premises which closed earlier this year.
The company has said there could be more than 1,000 jobs over the next five years.
Finance Secretary John Swinney said it was a "great boost" for employment in the area.
Mr Swinney added: "I also recognise the company's commitment to employing those returning to work after a period of leave and those made redundant.
"By occupying the former Lloyds Banking Group premises, Ascensos will bring a currently empty site back to life."
Ascensos, created by former beCogent executives, has benefited from a grant of £1.8m from Scottish Enterprise.
Managing director John Devlin said: "We want to create high-quality, long-term jobs in what is an area with tremendous skills availability.
"Our experience in building a client-focused business with highly-engaged employees will prove invaluable.
"In terms of roles created, our focus is not just on youth employment as we will also be looking to retrain and develop our people skills across the spectrum, including return-to-work mums and those affected by redundancy over recent years.
"We want the very best people to play a big part in our success."
'Really impressed'
The Motherwell centre is to be initially launched with 100 jobs and job numbers will increase as more new projects and clients come on board.
Mr Devlin added: "We are in discussion with a number of top-name clients in the retail and e-commerce sectors.
"As we develop ,we will become one of the largest employers in the area and our plan is to eventually diversify geographically and create more jobs in other areas of the UK."
Councillor David Fagan, convener of regeneration for North Lanarkshire Council, said: "It's great news that Ascensos is going to be based in Motherwell.
"I've been really impressed with their plans and that they have chosen Motherwell is a real endorsement of the town and North Lanarkshire as a great place to do business.
"We will help in any way we can to help deliver Ascensos' aim of building a cutting-edge business. Creating jobs in North Lanarkshire is our number one priority and we really look forward to working with the team."