Several Irish-linked 'terror arrests' made in Scotland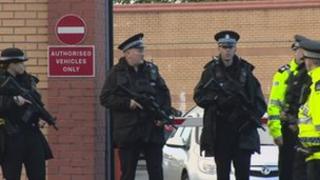 A number of people have been arrested in Scotland under the Terrorism Act during an operation focused on dissident Irish Republicans.
Police Scotland said they were arrested at several locations under section 41 of the Act "on suspicion of committing various offences".
It is believed that those who were arrested are being held at Glasgow's high-security Govan Police Station.
The Security Service and Police Service of Northern Ireland were involved.
A statement about the operation from Police Scotland Asst Ch Con Ruaraidh Nicolson said: "It focused on the activities of individuals sympathetic to dissident Republicanism but who are not affiliated to any specific group.
"Police Scotland has led the operation which has involved a number of officers, including specialist units, and public safety has been a priority throughout.
"We are confident as a result of these arrests there is no risk to the public. It would be inappropriate to comment further at this stage."