Murder accused Clive Carter claims no memory of killing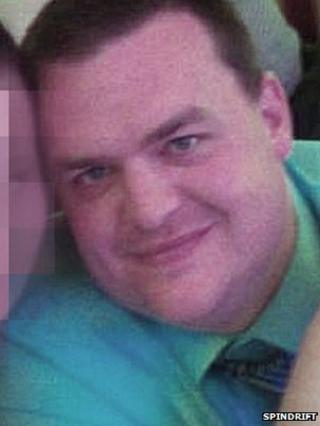 A security guard charged with murdering a woman with a fire extinguisher at Glasgow's SECC complex has said that he has no memory of the attack.
Clive Carter made the claim while giving evidence at his trial at the High Court in Glasgow.
The 35-year-old has denied murdering conference delegate Khanokporn Satjawat, 42, from Thailand, at the Clyde Auditorium on 12 November 2012.
He has admitted killing her while suffering diminished responsibility.
Mrs Satjawat died while attending a conference for HIV drug therapy at the Clyde Auditorium, which is part of the SECC complex.
She sustained massive head and facial injuries after being battered with a fire extinguisher in a female toilet.
The court was heard how Mrs Satjawat's blood was found on Carter's trousers, and on the sleeve of his work blazer and cuffs of his shirt.
His DNA was also found on the sleeve of the jumper Mrs Satjawat was wearing.
Pass row
Carter, from Motherwell, North Lanarkshire, was working as a security guard at the venue at the time of the incident.
Giving evidence, father-of-three Carter told defence QC Ian Duguid that he had a row with Mrs Satjawat when she asked why she should show her security pass.
Carter said he had gone up to the second floor after hearing a noise.
He was heading back down towards the fire stairs when he saw Mrs Satjawat.
He said she kept asking why she had to show him her security pass and this made him "angry, frustrated and annoyed".
Mr Duguid said: "Your emotions at the time were that she should just die is that correct," and Carter replied: "Yes."
He added: "When I was asked about the incident by psychiatrists and psychologists I remembered the argument and I remember saying 'Die, just die' in my head. I didn't say it."
'Heated debate'
Cater told the jury: "I just basically asked do you have your badge. She said: 'Of course.'
"She started to get a bit angry about it. I wasn't sure what the problem was. She asked me why. I had a problem understanding what she was saying. Basically she was saying: 'Why do I have to show my badge.'
"She said: 'Why is everyone having a go at me,' and I said: 'I just have to see your badge.'
"We had a heated debate, an argument. Basically she was asking these questions. I just wanted to see her pass. She was having a go at me. I couldn't understand what she was saying. A lot of it was in broken English."
Carter said that after arguing for a couple of minutes Mrs Satjawat pulled out her pass and waved it in his face.
After killing her he went on his lunch break and was in the rest room when a colleague said there had been an incident in the ladies toilets.
Carter said when he went up he saw Mrs Satjawat lying dead in a cubicle.
He was asked how he felt and said: "Shocked, dizzy. I was mortified by the sight of the lady in question."
He denied that he had tried to cover up what he had done by hiding his bloodstained blazer and trying to wash blood off the fire extinguisher.
Carter also denied having a fascination with fire extinguishers.
He was asked by Mr Duguid: "You accept you are responsible for the death of this lady how do you feel about that?"
Anger counselling
The accused replied: "I hate myself. I still struggle to understand and explain what happened. It doesn't make sense to me. In my own head there's no possible reason for what I did."
Carter was then asked if he could think of a reason for what he did and said: "No not really. I know we had an argument, but that was no reason to do what I did."
The court heard that Carter had been prescribed anti-depressants by his GP, but was not taking them.
He was also attending anger management counselling.
Carter admits killing Mrs Satjawat, but denies murdering her claiming diminished responsibility.
He claims that he was tired because of the shifts he was working from G4S and said that he had only had two-and-a-half hours sleep before heading for his shift on 12 November 2012.
In the two days previously he had worked 24 hours.
The trial before Lord Matthews continues.