Murder accused Clive Carter kept fire extinguisher photo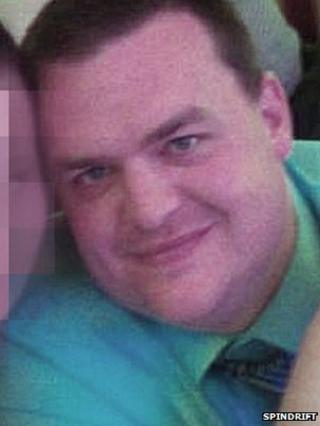 A security guard charged with murdering a woman with a fire extinguisher had a picture of such a device on his home computer, a murder trial has been told.
The High Court in Glasgow heard the image on Clive Carter's computer was identified as a fire extinguisher at the city's SECC main building.
Carter, 35, denies murdering 42-year-old Khanokporn Satjawat, from Thailand, at the Clyde Auditorium last November.
He has admitted killing her while suffering diminished responsibility.
Mrs Satjawat died while attending a conference for HIV drug therapy at the Clyde Auditorium, which is part of the SECC complex.
Stephen Kerr, 34, a labourer at the SECC, told the jury that he was asked by police to identify a photograph found on Carter's computer.
He told prosecutor John Scullion: "It was a fire extinguisher from the main building at the SECC."
The jury was shown other pictures taken from Carter's computer which appeared to show him in uniform in the gents' toilets which were identified as being at the complex.
Forensic scientist Josephine McKain told the court that she found Mrs Satjawat's blood on Carter's trousers, and on the sleeve of his work blazer and cuffs of his shirt.
Ms McKain said that the blood was "impact spatter" which was likely to have been caused by Mrs Satjawat being struck while she was bleeding.
The scientist told the jury is was likely that Mrs Satjawat was lying down when she was struck.
She also examined a fire extinguisher and found it had Mrs Satjawat's blood on it and said it appeared that attempts had been made to clean the blood off.
Massive injuries
Pathologist Dr Marjorie Turner told the jury the cause of death was "blunt force trauma to the head".
Dr Turner said the conference delegate suffered massive bruising to the left hand side of her face, fractures to her jaw and damage to her teeth.
The pathologist said: "There was bleeding into the skull. All the bones in the left side of her face were effectively shattered.
"The skull was broken into small pieces which were forced into the brain.
"The base of her skull was fractured across from one ear to the other."
Dr Turner said that multiple blows had been inflicted but she was not able to say how many.
She told the jury that Mrs Satjawat had defensive injuries to her hands and may have been trying to defend herself.
The pathologist was asked what force would have been needed to inflict the injuries and replied: "Because of the intensive injuries it would require considerable force in the infliction of the blows."
The jury was shown photographs of the injuries.
In a joint minute, which closed the Crown case, the jury was told that Carter's DNA was found on the sleeve of the jumper Mrs Satjawat was wearing.
The trial before Lord Matthews continues.