Image appeal over mans' decomposed remains in Glasgow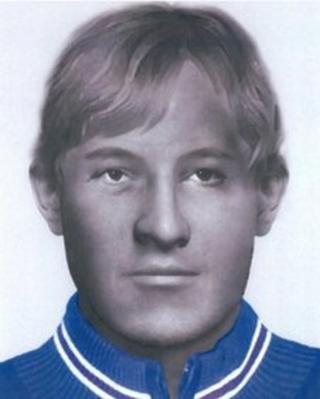 Police have issued a facial reconstruction image in a bid to identify a man whose badly-decomposed body was found in Glasgow.
The body was found in woods near Golf Course Road, at Glen Orchard Road, Balmore, on 19 October 2011. It may have been there for six to nine months.
There were no suspicious circumstances surrounding the man's death.
Despite previous appeals and extensive inquiries, police have, so far, been unable to establish his identity.
The man was described as white, between 20 and 35 years old and between 5ft 8in and 6ft 1in tall, with light brown hair.
He was wearing a light-blue polo shirt from Topshop, a blue jacket with a knitted white band around the collar.
Previous appeals
It has "Southern Creek Pennsylvania" motif written on the left side of the chest. He was also wearing blue jeans and dark training shoes.
Det Sgt Kerr Duncan, who has worked on the inquiry, said: "Sadly, despite previous appeals and extensive police enquiries carried out, this man has not been identified.
"I hope that the images released today of a facial reconstruction and the man's clothing will jog someone's memory, and finally we may be able to find out who this man is and contact his family."
Anyone with information is asked to contact police.
The facial reconstruction image was produced by a team of forensic anthropologists at Dundee University's Centre for Anatomy and Human Identification.