Murder accused Clive Carter spoke of Khanokporn Satjawat injuries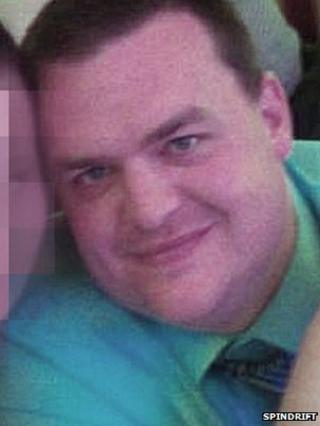 The trial of a security guard accused of murdering a woman at Glasgow's Clyde Auditorium has heard how he described her injuries to a colleague.
Security steward Karen Daly, 36, said that Clive Carter told her the woman's "face was smashed in quite badly".
Mr Carter, 35, denies murdering 42-year-old Khanokporn Satjawat, from Thailand, by battering her with a fire extinguisher on 12 November last year.
He has admitted killing her while suffering diminished responsibility.
Mrs Satjawat died while attending a conference for HIV drug therapy at the SECC complex.
Carter's trial at the High Court in Glasgow heard from Ms Daly who said she was working in the cloakroom at about 14:30 on 12 November last year when he walked past.
She told advocate depute John Scullion, prosecuting, that she knew there had been an incident in the building and asked Carter how he was.
Ms Daly added: "He went into detail. He said: 'I found the lady and her face was smashed in quite badly'."
She told the jury that Carter appeared pale.
Medical emergency
Earlier James Cameron, a manager with security firm G4S which employed Carter, told the court he was on duty that day.
Mr Cameron said he was having a lunch break when a code 10 came over the radio. He said this meant it was a medical emergency.
The witness told the jury that he went down to one of the main doors at 14:20 - 15 minutes after the call was broadcast.
He told Mr Scullion that Carter came up to him and asked if he knew what had happened.
Mr Cameron added: "I said I didn't know and he said: 'She's been battered.' I told him to stop talking because the concourse was very busy with delegates."
Mr Cameron said they both went to a nearby cabin where Carter sat down and said: "I've seen some sights in my time," before putting his head in his hands.
Another G4S employee, senior supervisor Alexander McIntosh, 54, was asked if Carter had said anything to him about a fire extinguisher and replied: "He mentioned something about having taken a fire extinguisher off someone."
Mr McIntosh said that he was sitting with Carter in the staff restroom when another employee came in to say something had happened in the ladies toilets.
The first person to leave the room was Carter and the next time Mr McIntosh saw him was outside the ladies toilets.
Mr McIntosh said: "His appearance was much different. He seemed more agitated. He was white looking and sweating as if he had had a shock."
The jury heard that just before Mrs Satjawat's death Carter was complaining of fatigue due to long working hours.
The court was told that between June and July last year Carter worked for 26 consecutive days.
He worked a total of 24 hours on the Saturday and Sunday before Mrs Satjawat's death.
The trial before Lord Matthews continues.