Broagan McCuaig 'having flashbacks' after attack by dogs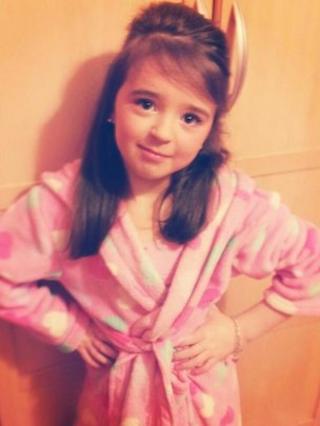 An eight-year-old girl who was mauled by two American bulldogs in Glasgow is having flashbacks about the attack, her parents have revealed.
Broagan McCuaig was playing with friends in Gartloch Road, Garthamlock, at about 17:10 on Friday when she was attacked by two American bulldogs.
She received serious facial wounds and has had surgery on her face and leg.
Her parents Tracy Cox and Neil McCuaig told BBC Scotland she was terrified and kept asking if "the dogs are away".
The dogs, which have been seized by police, were being walked by their owner at the time of the attack.
A man, aged 34, and a 33-year-old woman have been charged with offences under the Dangerous Dogs Act.
Ms Cox described the moment she found her daughter being attacked.
"She was playing with her friends when the next minute she was screaming and banging at the door," she said.
"I could see at the back window these two big animals were pulling her from one to the other."
Ms Cox said she saw some men trying to get the dogs off her daughter, then "blacked out".
"I just froze," she said.
"It was the worst day of my life. It's horrible to think one minute she's shouting and the next she's screaming 'help me'. That's all I can remember."
"I thought it was going to be bad but she's pulling through.
"She's just wanting to get home. She's getting flashbacks. It's all coming back to her so she's getting frightened now."
The couple only moved to the flat four to five weeks ago.
Ms Cox said: "She doesn't want to go back to that house. There are too many bad memories. She'll never be able to go out the back again because that's where it happened."
Mr McCuaig said the dogs had recently "pounced" on him and his own dog but the owner had pulled them away.
He said: "Nothing came of it but I wish it did now as they probably wouldn't be there when this happened to her.
"It has had a terrifying impact. She keeps saying 'are the dogs away?'."
'So brave'
Ms Cox said she believed the type of dogs involved should not be allowed to be kept in flats.
"Those dogs are enormous," she said. "I'm really angry. Those dogs are for farms. They shouldn't be in a wee block of flats. There should be licences for these dogs.
"It could've been a lot worse. I could have been sitting in a different place now."
Ms Cox described her daughter as "a typical eight-year-old".
She said: "She's out playing, cheeky, good one minute, bad the next. But she's popular and has a lot of friends. She's a good lassie.
"I'm really proud of her. She's so brave."
When asked about the dogs' owner, Ms Cox said: "The guilt is going to live with her forever. She has kids of her own.
"As a mother I would understand how she's feeling because if it was the opposite way I'd be devastated that my animal did that."