Glasgow 2014: High demand for new Commonwealth Games tickets sale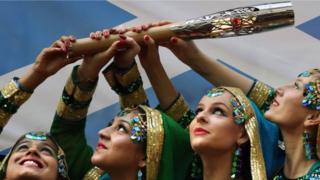 A second sale of tickets for the 2014 Commonwealth Games in Glasgow has seen "high demand" with delays of more than 60 minutes for online booking.
People who did not manage to get any tickets during the first sale can make purchases on Monday and Tuesday.
From 10:00 on Wednesday, applicants who received some tickets in the first sale will also be able buy additional ones.
Rugby sevens, badminton, hockey, table tennis, squash, bowls and weightlifting are said to have the best availability.
Limited tickets also remain for some sessions of athletics, boxing and rhythmic gymnastics.
After the second sale commenced at 10:00 on Tuesday, some people went online to express delight at netting the tickets of their choice, while others spoke of delays of "more than 60 minutes" as they tried to book seats online.
'Very disappointed'
The official Glasgow 2014 Twitter account welcomed people's patience amid the strong demand.
One message said: "We're experiencing very high demand for #2014tickets. The site is up and selling but the queues are large and we appreciate your patience."
Another message said: "Call volumes to the ticketing hotline are very high."
In feedback made to the BBC news website, one ticket hopeful, Carole Young, said: "Logged on to official site at 10.03 am, now 11.34 am still waiting in a queue very very disappointed."
Another, Jacqueline Farrell, said: "I have been sitting on line since 9.15 this morning waiting to log onto our accounts.
"The browser kept trying to do something but nothing and then it logged me out and then I had to sign back in and am now in a further 60 minute queue - so, so disappointing."
Others, like Fiona, however, expressed their delight at securing tickets: "I was unsuccessful getting tickets in the first ballot and tried again this morning.
"Was really pleased to get myself and my daughter day and evening tickets to the rhythmic gymnastics on the 24th July."
Craig Martin was also successful: "Was in the queue for about an hour then was allowed to buy tickets - there were quite a few left.
"Think I got the last athletics tickets. Also got tickets to see Northern Ireland in netball and tickets for lawn bowls."
Ticket ballots
During the initial four-week window for the Glasgow 2014 Games, there were 2.3 million requests for up to one million tickets.
Of the 17 sports on offer, track cycling, diving, swimming, judo, shooting and the 100m sprint final were all over-subscribed and needed ballots to select who received tickets.
The second batch of tickets are being allocated on a first-come, first-served basis through the official ticketing website or ticket hotline.
From Wednesday the sale will be opened up to people who got some of the tickets they wanted, before all of the Glasgow 2014 ticket applicants are invited to buy tickets until 18:00 on Saturday.
Any remaining tickets will then be put on general sale.
Ty Speer, deputy chief executive of Glasgow 2014 said: "We're all set for this exciting new phase of ticketing during which there may be periods of high demand as people select and buy their sports and sessions.
"At these times we'd appreciate the patience of all customers. We will be working hard to process all orders as quickly as possible."
The Commonwealth Games Baton Relay is also currently making its way round the world before returning to Scotland next year.