Child life-saving service at Yorkhill wins award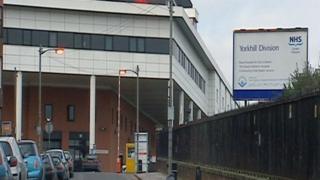 A national service which has saved the lives of hundreds of children has been recognised with an award.
Yorkhill Hospital's Extracorporeal Life Support Service, or ECLS, has used the latest technology to treat almost 500 children, half of them newborn babies.
The service was one of the first in the UK to see the potential of Extracorporeal Membrane Oxygenation, or 'ECMO' machines, to save lives.
ECMO machines replace the function of the heart and lungs, giving medics a vital window of opportunity to treat patients who are seriously ill.
The technology hit the headlines during the swine flu epidemic in 2009 when it was used to help those whose lungs were failing.
Two year old Matthew Wilson was close to death when he was transferred to the service at just three hours old.
He had breathed in fluid and faeces in the womb and his body couldn't absorb enough oxygen.
"I was under general anaesthetic so I didn't actually see him when he was born," said his mum Clare Wilson, "but apparently he wasn't breathing."
"They told me it was one of the worst cases they'd seen."
Matthew was on an ECMO machine for five days.
"Although it looks really horrific at the start, it does work," said dad Ian Wilson. "It was very scary but we saw he was on the mend and we grew more confident as the days went on."
Matthew made a complete recovery.
ECMO machines take blood from the body, usually via a cannula inserted directly into the heart by a cardiac surgeon, and oxygenate it before returning it to the body.
Nearly half of a baby's entire volume of blood is oxygenated every minute.
"Basically, it gives us time," said paediatric surgeon Carl Davis.
"We can then make the baby better or the baby's body has time to get better. We can give antibiotics or physiotherapy to clear out meconium from the lungs, as Matthew had."
Survival rate
So far ECMO machines have been used on 116 babies with the same condition as Matthew, Meconium Aspiration Syndrome.
The survival rate is twice as high as would normally be expected, with 98% of babies recovering.
Overall nearly 500 children with various conditions have been treated since the service was set up in 1992.
Although many of these children are critically ill, the survival rate is 80%.
The service is available to children all over Scotland, and is based at Glasgow's Royal Hospital for Sick Children.
It has been awarded an award for "Excellence in Life Support" by the Extracorporeal Life Support Organisation.
"It's a team award," said Mr Davis.
"We're striving for excellence and it's a huge team involving nurses, physios, profusionists and people in labs providing blood tests ...and I'll have forgotten a whole bunch of people who are also involved."