EU money for Glasgow firm's fitness project for football fans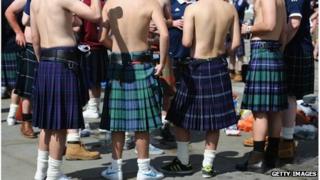 A Scottish company has been awarded £500,000 by the European Union to develop technology to improve the health of football fans.
Pal Technologies in Glasgow is developing a pocket device that records physical activity through movement.
The information is intended to help the users monitor and encourage exercise.
One of the academics who will work on the programme said it could lead to "positive lifestyle changes" for fans and their families.
The money has been awarded by the EU's 7th research framework programme, which focuses on improving the health and diet of football fans.
Health experts say middle-aged men who watch football are among the most difficult groups to reach with a healthy living message, so researchers are using their loyalty to their clubs to promote exercise.
The project is supported by top clubs, such as Arsenal and Benfica, and is designed to encourage unhealthy fans to take part in a fitness and lifestyle programme with their team.
Lifestyle change
A Football Fans In Training scheme has been running in Scotland for the past three seasons.
Fans compete against each other to see how much weight they can lose and by how much they can improve their fitness.
Fifteen football clubs take part and teams from England, Netherlands, Norway and Portugal participate in a European version.
Pal chief executive Douglas Maxwell said: "You just have to look at the spectators and players on match day to see the clear difference in their lifestyles: one so active, the other so sedentary.
"Our existing technology, the activPAL, has been used for a number of years by researchers looking at the relationship between a sedentary lifestyle and chronic disease including obesity, diabetes, cancer and heart disease."
The University of Glasgow will be involved in the extended scheme, which starts in November.
Prof Sally Wyke, deputy director at the university's Institute of Health and Wellbeing, said: "We know that men are much less likely than women to use existing opportunities for lifestyle change.
"Football is a real draw for many men. The commitment many feel to their clubs and the opportunity to train with other fans to be healthier is a real bonus for them."