Alan and Gary Mitchell guilty of £400,000 Rolex raid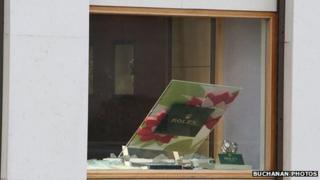 Two men have been convicted of stealing Rolex watches worth £400,000 and causing £210,000 of damage during an armed robbery at a jewellers.
Cousins Alan Mitchell, 34, and 20-year-old Gary Mitchell targeted Eric N Smith jewellers in Ayr Road, Newton Mearns, on 13 April, with another unknown man.
They threatened the owner and his wife with a machete while display cases were smashed with hammers.
At the High Court in Glasgow, sentence on both men was deferred.
The court heard that the well-planned heist at the East Renfrewshire jewellers lasted about 33 seconds.
Robbery footage
The jury were played CCTV footage which showed the masked robbers walking along Ayr Road, with one of them carrying a large lump of concrete on his shoulder.
This stone was used to hold open the shop door.
One of the robbers threatened the owners Eric Smith and his wife Yvonne with a machete while the other two smashed display cases containing Rolex watches with hammers.
A total of 38 watches, worth £400,000 were taken, with £210,000 worth of damage caused to other Rolexes.
Mrs Smith, 52, told the court it had been an ordinary Saturday until the raid took place.
She said: "The first thing I was aware of was a really loud bang. It was like a gun going off.
"I ran towards where the noise was coming from. There were three men coming into the shop with masks and carrying a machete and two hammers. They kept shouting 'Get back, get back'."
She told the court the man armed with the machete stood guard over them while the other two smashed a display window of Rolex watches.
In court, Mrs Smith identified both of the Mitchells as the two men she saw in the shop.
Robbers chased
She said she thought Alan Mitchell was the leader and Gary Mitchell the robber who was wielding the machete.
The Mitchells and their unknown accomplice were out of the shop in seconds.
However, a mother and son who saw the robbery chased them in their car - then a doctor and his wife saw them changing from their first getaway car into their second and noted down the registration number.
The second getaway car, a Mazda, owned by Alan Mitchell, was later searched by police and a scarf similar to the one worn by the robbers was found to have his DNA on it.
A top, which was the same as one worn by the raiders, had Gary Mitchells DNA on it.
Both men denied having anything to do with the robbery.
Alan Mitchell, from Cambuslang, South Lanarkshire, claimed he was getting a quote for work from a plasterer.
Gary Mitchell, from Shettleston, Glasgow, said he was at a football match.
Advocate depute Sheena Fraser, prosecuting, told the court that both men have previous convictions.
Alan Mitchell was jailed for five years at the High Court in Paisley in 2006 for opening lockfast places and a firearms offence.
Judge Lord Jones deferred sentence on both until November at the High Court in Edinburgh.