Five men admit disorder over Kelvingrove 'Royal party'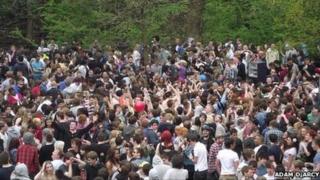 Five men have admitted taking part in disorder during an unauthorised Royal wedding party in Kelvingrove Park.
Liam Turbett, 23, John Bennett, 37, James Nesbitt, 26, Dominic McGoldrick, 19, and Matthew Crerar, 27, were involved in scuffles with police.
They will be sentenced next month of Glasgow Sheriff Court.
About 6,000 people went to the Glasgow park after the event was organised via Facebook. Police made 22 arrests, with 11 officers hurt, when trouble flared.
Glasgow City Council later said it spent about £25,000 in cleaning up the park after the gathering.
'Blind eye'
The court heard that the gathering was organised on the day of the Royal wedding, on 29 April 2011, on various social media sites such as Facebook.
It was said that police had maintained a low presence and "turned a blind eye" to public drinking.
Although the event was not sanctioned by Glasgow City Council, organisers managed to provide music over a PA system.
The court heard that about 17:00 the music was switched off and the "mood changed" among the crowd.
Footage and images of the scenes at the park were shown to the court.
Sentence on all five men was deferred.