'Troll' Liam Young sentenced for mocking April Jones search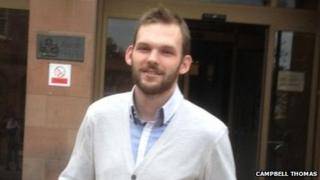 A man who admitted posting offensive remarks online about murdered Welsh schoolgirl April Jones has been ordered to carry out 120 hours of unpaid work.
Liam Young, 25, from Ardrossan, North Ayrshire, made the comments on Facebook during the search for the five-year-old, whose body has never been found.
He admitted disorderly conduct by sending indecent and offensive remarks.
Mark Bridger, 47, was jailed for life for abducting April near her home in Machynlleth, Powys, and murdering her.
A massive police operation was launched after April went missing on 1 October 2012 while playing near her home.
Unreserved apology
Kilmarnock Sheriff Court heard how two days into the search, Young was involved in a three-way conversation on Facebook in which each participant was "trying to be more shocking than the other".
Young's lawyer Graeme Cunningham told the court: "Mr Young probably won with his message, as shocking and stupid as it was."
Referring to his client he said: "He apologises unreservedly and a lesson has been learned, to the extent that he was photographed leaving court and his picture, with some unpleasant comments about him, was plastered across the national and UK newspapers.
"The articles written about him were less than flattering, and rightly so.
"The repercussions already visited upon him are far more damaging than other punishments."
The court heard how Young was sacked from his council job after his employers found out about the offence.
Passing sentence, Sheriff Brian Murphy told Young: "It concerns me that someone believes they can say what they like on Facebook because they live in a democratic society.
"I trust you will leave here knowing the right to freedom of speech is not unlimited.
"What you said was deeply offensive and you lost your job over this."
An arrest warrant was earlier issued for co-accused Gordon Mullen, 24, of Saltcoats, who denies a similar charge arising from the same incident.
In May, Bridger was convicted at Mold Crown Court of April's abduction, murder, and perverting the course of justice. He was given a whole life term.