Glasgow 2014: Games volunteers to be called Clyde-siders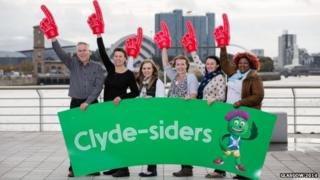 The army of volunteers enlisted to help during the 2014 Commonwealth Games in Glasgow will be known as Clyde-siders.
Organiser Glasgow 2014 said the title would be given to 15,000 people who had been chosen to help out from a total of 50,811 who had offered their services.
Successful applicants for Clyde-siders positions will begin hearing about their offers from Monday.
The 11-day games, which begin on 23 July 2014, will see 4,500 athletes compete in 17 sports across 14 venues.
The name Clyde-siders was chosen by the Glasgow 2014 frontrunners, the pre-Games volunteers who conducted all of the volunteer interviews.
Interviews on-going
Glasgow 2014 said the first offers were now going out to people for those roles where all interviews had been completed.
It urged applicants to be patient, however, as interviews for other Clyde-siders positions will continue until December.
Among the first Clyde-siders appointed are Emma Blore, 23, from Dumfries and Galloway, and 31-year-old Katherine Spoors, from Newcastle.
Emma has been assigned to Commonwealth Games Association relations at the Athletes Village.
"I live in a tiny village In Dumfries and Galloway called Mossdale and what I'm looking forward to most in Glasgow is the atmosphere," she said.
"At London 2012, I volunteered as part of the athletes services team based in Glasgow looking after the men's football teams and their delegations and everyone I met was really friendly.
"I want everyone who visits to feel right at home in Glasgow and hope to experience a great camaraderie with the other volunteers and staff."
Katherine said: "I went to the London 2012 football as a spectator and was struck by how friendly the volunteers were at the venue and that really stayed with me.
"As soon as the volunteer applications opened back in January 2013 I knew I wanted to be a part of the Commonwealth Games experience and help the beautiful city of Glasgow put on an amazing show.
"I'll be working as part of spectator services so I will be making sure everyone who attends the games has a brilliant and unforgettable time."
'Friendly faces'
Lord Smith of Kelvin, chair of Glasgow 2014, said he appreciated the "time and commitment shown by all candidates" who had been chosen for interview.
"I am confident those selected will enjoy what is a fantastic opportunity to become a part of the games and will help to deliver its success," he said.
"The Clyde-siders, as our volunteers are to be known, will be the friendly faces of the games, the first point of contact for many people, and are bound to inject their personalities into the event."
It was also confirmed that the Legacy 2014 Volunteer Support Pot was now open.
The discretionary fund will provide help to volunteers whose circumstances mean they need assistance towards the cost of taking part.
Commonwealth Games Minister Shona Robison said the Clyde-siders would help make the event "the best ever Commonwealth Games by creating a fantastic welcome for athletes, spectators and visitors".
"For those Clyde-siders who may need extra support, like those with a disability or care responsibilities, the £500,000 Legacy 2014 Volunteer Support Pot is now open," she said.
"It will help Scottish volunteers to overcome practical and financial barriers to help make their volunteering dreams a reality and provide valuable new skills and experiences.