Glasgow 2014: The Gambia confirms Games withdrawal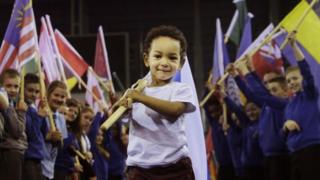 Gambian officials have confirmed that the country will not be competing in the 2014 Commonwealth Games in Glasgow.
Last week, the west African nation branded the 54-member grouping, which includes the UK and most of its former colonies, a "neo-colonial institution".
At the time it was unclear whether it would still be competing in the Games.
However, Games organisers have confirmed The Gambia's withdrawal and said alternative plans would be made for the baton relay.
A spokesman for Glasgow 2014 said: "All Commonwealth nations and territories are entitled to compete in the Commonwealth Games.
"Glasgow 2014 has received confirmation from the Commonwealth Games Federation of the formal withdrawal of The Gambia from the Commonwealth.
"It is our understanding, therefore, that The Gambia does not intend to enter a team and compete in next year's Games."
The spokesman said the Queen's Baton Relay, which visits all nations and territories of the Commonwealth, would no longer go to The Gambia.
"This planning is now under development in collaboration with the Commonwealth Games Federation and we will provide further information in the near future," he said.