Thousands get set for Great Scottish Run in Glasgow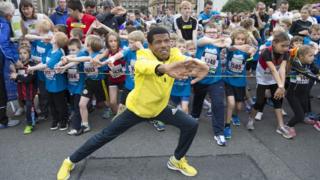 Drivers are facing diversions and delays as thousands of runners take to the streets of Glasgow for the Great Scottish Run.
Some of the world's top athletes will be joining 24,000 club, charity and fun runners for Sunday's 10K and half marathon events.
Four junior and family races were held in the city centre on Saturday.
The Great Scottish Run was first held in 1982 with the 2012 event reaching a record high of 24,089 runners.
A number of road closures will be in place over the weekend and diversions set up.
Sunday's events, featuring Ethiopian legend Haile Gebrselassie, will be televised live on BBC2 from 10:30.
Runners will go past some of the city's most famous landmarks, iconic buildings and Commonwealth Games venues.
Both the 10K and half marathon will start at George Square in the city centre and cross the Clyde before heading back to Glasgow Green.
Family runs
Half marathon participants will cross the Kingston Bridge to the city's southside and Bellahouston Park before crossing the Squinty Bridge and running along the Clydeside Expressway and the Broomielaw to Glasgow Green.
Those running in the 10K will also run along the Clydeside Expressway before crossing the Clyde at the Squinty Bridge then heading to Glasgow Green via the same bridge and the Broomielaw.
The 10K begins at 09:30 on Sunday with the half marathon following at 11:00.
Four junior and family runs - featuring 3,000 young athletes aged from toddlers to teens - were held around George Square and the Merchant City from 09:45 on Saturday.
The 2.5km Junior Run (12-15 years) was won by Scott McKay and Gillian Black - both from Victoria Park AAC - in times of 00:07:50 and 00:08:39 respectively.
The 2.5km Junior Run (9-11 years) was won by Scott Sprang from Ayr Seaforth AAC and Emma Gilmour from Victoria Park AAC with a time of 00:09:09 and 00:10:20 respectively.
And the 1.5km Mini Run (3-8 years) was won by Fraser Gilmour and Valencia Wright in 00:05:57 and 00:06:02 respectively.
The fourth event was the Family Mile.
Andy Mitchelmore of event organisers Nova International, said: "The atmosphere was just incredible, and to have 3,000 children all get excited about running - particularly ahead of the Commonwealth Games - was just great to see.
"Some of these youngsters are already stars in the making, and we may see them as future Commonwealth hopefuls one day. We are delighted so many turned out to make Super Saturday such a great success, and hope to see many of them here tomorrow cheering on the old ones."