Glasgow 2014: Moves to end Games baton relay hitch in New Delhi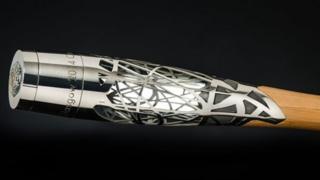 Organisers of the 2014 Commonwealth Games in Glasgow have sent a team to India in a bid to avert potential problems with the Queen's Baton Relay.
The baton will visit the Indian capital of New Delhi next week on the first leg of its tour of the 71 nations and territories of the Commonwealth.
It is understood problems arose because this coincides with celebrations for the Hindu festival of Dussehra.
Glasgow 2014 said the Indian leg of the baton relay would go ahead as planned.
The baton contains the Queen's hand-written message to the Commonwealth, which she will read out to mark the official opening of the games in Glasgow next year.
India problems
Reports in India, however, suggested that the New Delhi leg of the baton's journey was in doubt due to celebrations for Dussehra, which take place in October.
The Indian Express newspaper reported that the acting president of the Indian Olympic Association (IOA), Vijay Kumar Malhotra, had contacted Glasgow 2014 to request the relay be postponed.
The paper reported that it was difficult for Mr Malhotra to organise the event because the IOA was suspended due to the festivities.
Meanwhile, the Inside The Games website - which covers Olympic, Commonwealth and Paralympic Games news - reported critical comments from his colleague Tarlochan Singh, vice-president of the IOA.
Mr Singh was quoted as saying: "The organising committee wanted the baton relay in India on Dussehra day.
"It was not possible for us to organise on that day as there are celebrations everywhere. That is their fault. They should have discussed with us."
However, Glasgow 2014 officials insisted that they were "proactively engaged" with organisations such as the IOA, the British High Commission and international charity partner Unicef when developing the relay's schedule for India.
"We continue to actively collaborate with the IOA, the British High Commission and Unicef to ensure all plans are in place," a spokesman for Glasgow 2014 said.
"We look forward very much to bringing the baton and sharing our excitement and enthusiasm for the Commonwealth Games with the people of India next week, as planned."
'Key partners'
Meanwhile, the impact on the Games of The Gambia's move to withdraw from the Commonwealth remains unknown.
In a statement, the government said it had "decided that The Gambia will never be a member of any neo-colonial institution and will never be a party to any institution that represents an extension of colonialism".
The Commonwealth Games Federation said it was aware of the comments, but had not yet received any official advice on the matter.
"As a result, the CGF continues to work with key partners, including The Gambia National Olympic Committee, on preparations for the 2014 Commonwealth Games in Glasgow," said a spokesman.
"So long as The Gambia is a member of the Commonwealth at the time of the Games, it will be eligible to compete in them."