Appointments postponed after major IT failure at NHSGGC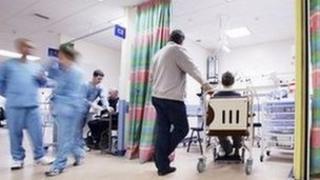 Hundreds of outpatient appointments and a number of operations had to be postponed after computer systems failed at Scotland's biggest health board.
NHS Greater Glasgow and Clyde said technicians were working through the night to fix a "major IT problem" which occurred on Tuesday morning.
It affected staff access to clinical and administrative systems.
The health board apologised to patients and said all appointments would be rescheduled.
In total, 288 outpatient appointments, four planned inpatient procedures, 23 day surgery cases and 40 chemotherapy sessions were postponed.
There was also some delay in calls to the switchboard being answered.
The problem may have affected up to 10 major hospitals across the health board area.
But emergency operations were not compromised - neither were community services.
A spokeswoman said: "Our technical staff are working flat out to resolve this.
"The problem relates to our networks and the way staff can connect to some of our clinical and administrative systems.
"We can reassure patients affected that their care will be rescheduled at the earliest opportunity.
"We are extremely sorry for the inconvenience that this has caused and we are doing everything possible to return services to normal as quickly as possible."
It was not clear how long the disruption would last.
NHSGGC said if it did continue, people who were scheduled for treatment would be contacted directly.