Glasgow 2014: Commonwealth ticket draw 'random and fair'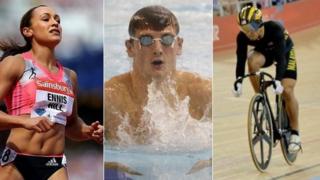 Organisers of the 2014 Commonwealth Games in Glasgow have defended the ticket allocation process after tens of thousands of people were unsuccessful.
Glasgow 2014 said 2.3 million requests were made for up to one million tickets between August to September.
Some people complained on social media sites that they had not secured any tickets while family and friends had multiple success in their applications.
Glasgow 2014 said the draw for tickets was completely "random and fair".
Speaking on BBC Radio Scotland's Good Morning Scotland programme, Glasgow 2014 deputy chief executive Ty Speer said he understood that many people felt disappointed.
'Lucky' applicants
"Obviously we had many, many more requests than we have had tickets available," he said.
"Of course we appreciate that people are disappointed - we knew that would be the case.
"We did our best to communicate that along the way, about how things were going, to manage expectations, but of course, we know that when people really want to come that if they don't get everything they want there's naturally going to be some disappointment."
Mr Speer said that people who had been successful in securing tickets for multiple high profile events - such as swimming and cycling - were just very lucky.
He said a "fair draw process" was used "session by session" to determine who got tickets to each event.
"It doesn't recognise whether someone has been successful in an application for an athletics event on the one hand or a badminton event in the other," he said.
"It is a completely random draw."
'Fair draw'
He added: "We have said from the very start that we think when sessions are over subscribed the most important thing we can to do be fair is to run a random, fair draw process and we've done that session by session."
Mr Speer said Glasgow 2014 had looked at other options for allocating tickets but had decided on a "fairness principle" that would be "random right across the board".
He added: "We didn't want to favour those that applied for more tickets or those that applied for fewer tickets.
"We wanted to treat everyone exactly the same. That's why each session is done through a fair draw process."
As ticket confirmation was sent out to applicants on Monday, Glasgow 2014 revealed that some of the 17 events on offer were massively oversubscribed.
Cycling events, which will be held at the Sir Chris Hoy Velodrome, received 25 times more requests than the number of tickets available.
General sale
There was also an excess of 100,000 applications made for the 100m men's final at Hampden Park.
Other sports which were oversubscribed were diving, swimming, mountain bike, artistic gymnastics, judo, shooting and triathlon.
Tickets for these events, along with popular sessions in other sports, were allocated via a draw.
People who have already applied for tickets will be given the first opportunity to buy any which remain available.
Everyone who has applied for tickets will then be offered the chance to buy more tickets during an exclusive on-sale period before any remaining tickets are placed on general sale in late October.
The 11-day games, which begin on 23 July 2014, will see 4,500 athletes compete in 17 sports across 14 venues.