Police probe 'concerns' over Rangers' Armed Forces Day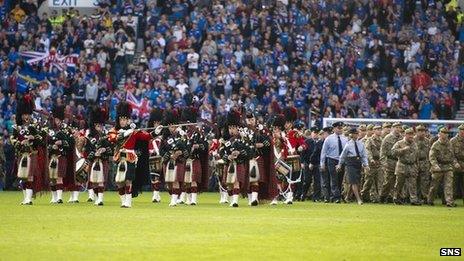 Police are investigating concerns about the conduct of people during an Armed Forces Day at Ibrox on Saturday during Rangers' game against Stenhousemuir.
Hundreds of members of the Royal Navy, Royal Marines, Army, and Royal Air Force took part in the event.
It is believed police were contacted after footage and photographs of the event appeared on social media sites.
The MoD said any personnel involved in misconduct would face disciplinary measures and possible police action.
A spokeswoman for Police Scotland said: "We are aware of concerns raised regarding the conduct of a number of people attending the Rangers versus Stenhousemuir game at Ibrox on Saturday and these concerns are being investigated."
A spokeswoman for the MoD said: "We are aware that Police Scotland are investigating an allegation relating to the behaviour of some fans at Saturday's game at Ibrox.
"It would be inappropriate to comment further at this time.
"Any personnel found to have fallen short of the armed forces' values and standards will be dealt with by the chain of command and, if necessary, by the police."
Related Internet Links
The BBC is not responsible for the content of external sites.