Glasgow 2014: Fans finding out about Games tickets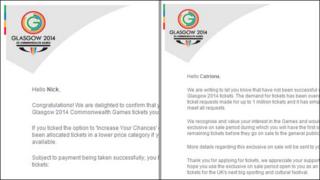 Hundreds of thousands of people are finding out if their application for tickets to events at the Glasgow 2014 Commonwealth Games has been successful.
Organisers have started to contact people who applied to watch the events.
All ticket applicants will be contacted via letter or email over the next few days.
During the four-week allotted window, there were 2.3 million requests received for up to one million tickets.
Some sports fans, who have already learned of their success or failure in securing tickets, have taken to Twitter to express their joy or disappointment.
Graham Farquharson from Glasgow wrote: "Thrilled! Got tickets to @Glasgow2014 athletics finals on my birthday and hopefully seeing @EilidhChild win."
Another Twitter user, David Wiliamson, urged Olympic and World 100m champion Usain Bolt to put in an appearance next summer. He wrote: "@usainbolt 100m final commonwealth games tickets confirmed PLEASE ATTEND!!"
'Fair process'
Other applicants were not so lucky, Michael Inglis said: "Got £80 of the £600worth of Glasgow 2014 tickets I applied for."
Jason Harvey wrote: "Parents only got 1 session for @Glasgow2014 let's hope I can get some closer to the time. Looks like it's harder to get tickets than London!"
Proving particularly popular from the 17 sports on offer was track cycling, which received 25 times more requests than the number of tickets available.
Cycling events will be held at the Sir Chris Hoy Velodrome.
There was also an excess of 100,000 applications made for the 100m men's final at Hampden Park.
Other sports which were oversubscribed were diving, swimming, mountain bike, artistic gymnastics, judo, shooting and triathlon.
Tickets for these events, along with popular sessions in other sports, were being allocated in a "fair draw process".
'Exciting moment'
Glasgow 2014 deputy chief executive Ty Speer said: "Today marks yet another exciting moment in the journey to Glasgow 2014 and it's a real pleasure to share the details of which great live sporting moments Games fans will be part of next summer.
"The overwhelming enthusiasm demonstrated by hundreds of thousands of people already guarantees tremendous crowds across the board for Commonwealth athletes.
"This is a real vote of confidence and it's clear that so many people intend to make sure this is going to be a great Games in Glasgow."
People who have already applied for tickets will be given the first opportunity to buy any which remain available.
Everyone who has applied for tickets will then be offered to buy more tickets during an exclusive on-sale period before any remaining tickets are placed on general sale in late October.