Javaid Ali killer Lee Anderson's brother jailed for contempt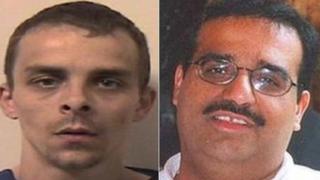 The brother of a man who was jailed for 15 years for killing Paisley shopkeeper Javaid Ali has been jailed for a year for contempt of court.
Paul Anderson, 30, who is currently in prison, was found to be in contempt for failing to answer a question during evidence to his brother's trial.
Lee Anderson, 31, denied fatally stabbing 48-year-old Mr Ali at Sunshine Grocers in Green Road on 15 June 2012.
He was originally charged with murder but found guilty of culpable homicide.
In evidence during the four-week trial at the High Court in Glasgow, Paul Anderson claimed that someone told him that a man called Damien O'Neill was responsible for Mr Ali's death.
He refused, however, to give the name of the person who told him this, claiming he feared for his life if he did so.
'Blatant contempt'
Mr O'Neill was one of six men incriminated by Lee Anderson for the killing of Mr Ali.
But in his closing speech to the jury, defence QC Brian McConnachie said that, after reviewing all the evidence, he did not consider Mr O'Neill one of the prime candidates as an incriminee.
Sentencing Paul Anderson on Friday, temporary judge Sean Murphy said: "You repeatedly refused to answer a question put to you during a murder trial.
"This is a blatant contempt of court. You said you were concerned for your own safety if you said who told you Damien O'Neill was responsible."
Defence counsel Louise Arrol told the court: "He was in fear for his safety in prison, but had ultimately provided information which was of assistance to the court."
Lee Anderson was found guilty of stabbing Mr Ali in the neck at his store in Paisley.
The shopkeeper died in hospital two weeks later after the massive loss of blood caused irreparable brain damage.