New Low Moss Prison records 165 assaults in a year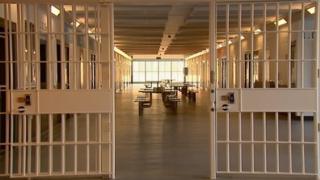 Prisoners at Scotland's newest jail carried out 165 assaults last year, a new report has revealed.
An inspection report on Low Moss Prison near Bishopbriggs revealed 15 serious attacks by prisoners on fellow inmates in 2012-13.
There were a further 140 assaults by inmates on inmates, and 10 assaults on prison staff.
The Scottish Prison Service said it did not "tolerate any acts of violence" and said it had procedures to reduce risks.
The report also recorded "five incidents of concerted indiscipline" - most of them said to be sit-down protests.
The report by HM Chief Inspector of Prisons David Strang said Low Moss had "appropriate staffing levels" to "ensure good order is maintained".
It added "most prisoners reported that they feel safe within HMP Low Moss".
Dirty protest
The report drew attention to the way in which the prison was dealing with a so-called "dirty protest".
At the time of the inspection, a prisoner was being switched between two cells to allow each of them to be cleaned in turn.
Repeated deep cleaning of the cells meant the cells required re-plastering and re-decorating "as a matter of urgency".
Inspectors said it was "concerning to note that there was no one, national, recognised protocol or standard operating procedure which deals with such situations".
They recommended the Scottish Prison Service (SPS) "ensure that a national protocol for dealing with prisoners on dirty protests is designed and implemented across the estate".
The report also drew attention to the average time given to prisoners who were receiving methadone. This was said to be one minute per patient.
It stated: "This does not constitute good prescribing practice and should be reviewed. This is a weakness."
'Functioning well'
Overall, however, the report found that for the jail to be "functioning well given it has only been up and running for just over a year is a considerable achievement".
It also praised the number of inmates taking part in 35 hours of "purposeful activity" - such as work or education each week.
Mr Strang said: "This report is positive and I am particularly impressed with the links that have been fostered with local groups and the community.
"Access to purposeful activity and visits also deserve to be singled out for praise. A clear positive culture and can-do attitude has been created and bought into by both staff and managers."
A Scottish Prison Service spokesman said: "SPS welcomes this report which the Chief Inspector of Prisons himself described as 'good and positive'.
"We will consider and respond to all the recommendations contained in the report."
He added: "SPS does not tolerate any acts of violence and procedures exist to reduce such risk to a minimum. Where appropriate, the circumstances are reported to the police for action."