Factory blast owners ICL Plastics lose compensation bid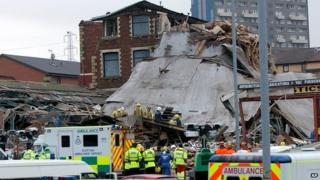 The owners of a plastics factory which exploded in Glasgow killing nine people have lost a legal bid to hold a supplier liable for compensation.
ICL Plastics Ltd wanted Johnston Oils to contribute to payments to those injured in the blast at the Stockline Factory in Maryhill in May 2004.
The explosion happened after liquid petroleum gas (LPG) escaped from pipes.
ICL said Johnston, which supplied the LPG, had a duty to maintain the pipes but a judge said ICL was responsible.
The explosion at the ICL Plastics-operated building also resulted in 33 people being injured - 15 of them seriously.
'Avoidable disaster'
In 2007, ICL Plastics and another firm, ICL Tech, were fined a total of £400,000 for breaching health and safety laws over the explosion.
An independent report later concluded it was an "avoidable disaster" which happened after LPG escaped from a badly maintained pipe and ignited.
ICL Plastics went to the Court of Session earlier this year in a bid to recover a contribution from Johnston Oils towards the payment of £191,451 to Archibald Lindsay, a survivor of the explosion.
The court heard that the legal action was a test case for payments to other people who were injured in the explosion.
Lawyers for ICL argued that Johnston Oils was legally obliged to contribute towards payments.
The court heard that Johnston Oils started to supply ICL with LPG in February 1998.
It also heard that the Health and Safety Executive had warned ICL about the conditions of its pipes in the years before 1998.
In a written judgement issued at the Court of Session on Wednesday, judge Lord Hodge said ICL management had previously ignored warnings about the conditions of the underground pipes.
He wrote: "I am not persuaded that the pursuers have established that, if Johnston Oils had advised them in 1998 or 2002 to investigate the state of the underground pipes, they would have acted in a way which would have averted the tragedy."
The judge continued: "The pursuers took no steps to monitor, inspect and maintain the underground pipeline after they received a clear warning from the Health and Safety Executive in 1989.
"It was not the practice of suppliers to give their commercial customers advice on the maintenance of the pipework and gas supply system which the customers owned.
"The central issue in this case is whether the common law duty of care of such suppliers and in particular Johnston Oils for the safety of people in the vicinity of the gas supply system imposed on the suppliers duties to inquire about the condition of the customer's pipework and to give unsolicited advice to the customer to investigate and maintain it.
"I therefore conclude that Johnston Oils did not owe the duties of care to the injured parties on which the pursuers have built their case."