Javaid Ali murder trial: Prosecution closing speech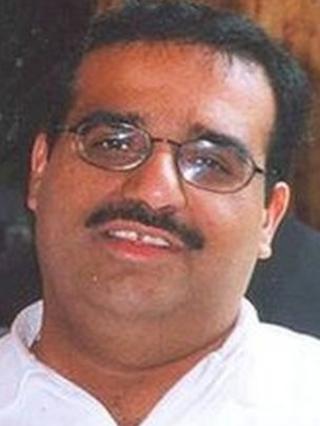 The jury in the Javaid Ali murder trial has been told there is a "powerful and compelling" case against the accused.
In his closing speech, prosecutor John Scullion said the case against Lee Anderson, 31, was "circumstantial".
He told the High Court in Glasgow: "If viewed in isolation things mean nothing, but when viewed as a whole they are powerful and compelling."
Mr Anderson denies murdering 48-year-old Mr Ali at the deceased's Sunshine Grocers shop in Paisley last June.
The accused has lodged special defences of alibi and incrimination, naming five other men.
'Beyond doubt'
Advocate depute Mr Scullion said: "The Crown position is that he stabbed Javaid Ali in the neck intending to kill him or did not care if he lived or died.
"The Crown position is that it is establish beyond reasonable doubt he murdered Javaid Ali.
"Mr Ali was a hard-working man who developed relationships with his customers."
Mr Scullion said that at 17:07 on 15 June 2012, Mr Ali phoned a 999 operator to say he had been stabbed.
The prosecutor said that Mr Ali was able to give his name and address and what had happened to him, but he never named his attacker.
He said: "This is because he did not know his attacker."
Mr Scullion added that the court had heard evidence that Mr Anderson had never been a customer at the Sunshine Grocers.
The prosecutor said Mr Anderson had shown an "unhealthy interest" in the case and added: "That was because he wanted to know if anyone had seen him at the store."
He said that Mr Anderson also went to police with false information in a bid to confuse the investigation.
Mr Scullion told the jury that Mr Anderson had confessed that he "had done the shopkeeper" to his mother and brother.
Mother's concern
The prosecutor said that Mr Anderson's mother was so concerned that she emailed BBC's Crimewatch and also went to the police.
He added: "The evidence is overwhelming that Lee Anderson is guilty of murder."
Referring to the men who Mr Anderson names as incriminees, Mr Scullion said: "There is not a shred of evidence to place any of them in the Sunshine Grocers on the afternoon of June 15, last year."
Mr Ali suffered brain damage caused by massive blood loss and died in hospital on 19 June 2012.
Mr Anderson denies all the charges against him.
The trial before temporary judge Sean Murphy continues.